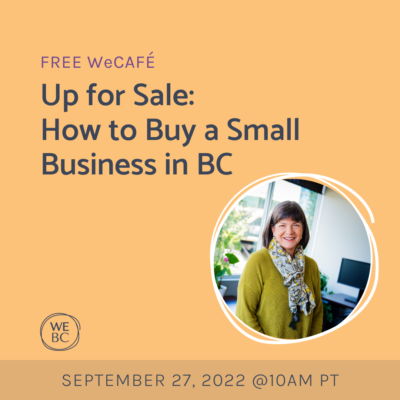 Starting a new business isn't the only path to entrepreneurship. Purchasing an existing small business can be a great option to become a business owner. It can also be a prominent option to grow your business. You'd get a proven track record, an established customer base and/or team, immediate cash flow, an easier path to financing – and you'd avoid some of the risks typically associated with start-ups. Of course, there's still plenty of room for mistakes. And where would you even start?
Join us on September 27 to hear from and a panel of entrepreneurs who have experienced the business buying-selling process to learn about business purchasing from different perspectives.
In this FREE interactive session, we'll cover:
Pros and cons of purchasing an existing small business
The buying-selling process (from offer to closing)
An introduction to business valuation
Where to find the right business to buy
How to avoid some of the common mistakes made when buying a small business
Open to everyone!
September 27 | 10am to 11am PT | Free Webinar
Facilitator: Melanie Rupp, Senior Director of Loans & Advisory Services at WeBC
Panelists: Pauline Stevenson, President of Excel Career College and Regional Ambassador at WeBC
Register free: https://we-bc.ca/product/up-for-sale-how-to-buy-a-small-business-in-bc/