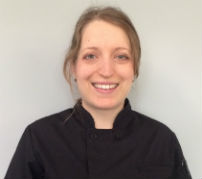 Sarah Adamson always wanted to own a restaurant. She took the first step towards realising her dream when she launched Fuze Food as a small "Food Trailer." Her husband helped her design a small custom kitchen on a flat deck trailer that she could tow around to festivals and events for the summers. Living in the tourist town of Invermere boosted her business, so after just two very successful summers, she decided to move to a year round bricks and mortar location. Fuze offers great healthy options to fast food, using mostly local products. It also offers ethnic foods from around the world such as butter chicken, burritos, and Thai rice bowls.
Fuze Food also caters to a niche market in Invermere for people with specific dietary needs such as gluten free, dairy free, egg free, vegan and vegetarian. As Adamson says, "We are very accommodating to people who have special requests and just want our customers to leave smiling and with FULL Bellies."
Q. What services has Women s enterprise centre provided you?
A. Women's Enterprise Centre provided me with the necessary capital to grow from a seasonal food truck to a full time, year round bricks and mortar location. It is very hard for restaurants to get funds from banks because of the high failure rate. Statistics show that about 69% of new restaurants shut down during the first 3 years. We were able to show WEC that even though we had only been open for a total of 6 months, and had very little equity, our ideas and future plans were well calculated and our market research was sound. With the help of my WEC business advisor, this loan encouraged me to develop my business plan more in depth to truly understand what my goals and needs for capital were.
Q. What inspired you to take the leap and start your own business?
A. As a young girl, I loved dressing up my little sister and brother as waiters to serve my latest creations to my parents, who are themselves, amazing cooks. I was very fortunate to grow up in a small town with little fast food options. We had a huge garden where we grew all sorts of food which motivated us to eat healthy. I trained under many different styles of chefs and restaurants. After I moved to the small town of Invermere, an accident really made me think about my true passion. In 2012, while skiing at the local resort I was caught in an avalanche that almost took my life. I suffered a broken neck, back, leg and major concussion. While I was recovering I got a lot of support from locals and a lot of time to think. I decided to take the plunge into entrepreneurship by cooking the nutritious but also comforting food that helped me get through the tough recovery time.
Q. What is the biggest lesson you learned when starting your business?
A. Stay true to yourself and your business vision! So many people would come up to me, (with good intentions) saying "YOU SHOULD do this….." or "YOU SHOULD do that." It can become very overwhelming and confusing. You will second guess some of the things you are doing and that is never good. So stick to your plan!
Q. What are your goals for the business?
A. I would like to open more locations like Fuze within interior B.C. I have had so many people ask me if Fuze was franchise, which is such a huge compliment to me. Our logo is solid, and our product is consistent which makes me believe in its ability to branch out to other areas.
Q. What is your greatest strength as an entrepreneur?
A. I love food, I love to eat, I love people and making them happy. My passion for making people smile has helped me to create different kinds of flavors using different ingredients. Being empathetic to customers dietary restrictions and diets, while still creating something delicious has been so much fun for me.
Q. What personal lessons have you learned as an entrepreneur?
A. I've learned to stay calm in the face of various challenges including finding good staff and other HR issues. As an entrepreneur there are always surprises like equipment failure, or product not showing up on time. I have developed this inner strength and resilience throughout the past three years from all the issues and obstacles that I have had to overcome. I have a sense of peace and calmness I had no idea I could possess.
Q. What were your major successes? At what point did you know you had achieved success?
A. My first milestone in business was when we moved from being a seasonal business to a larger year round location. It was important for me to feel confident in our product and services and to be able to actually see customer reactions before we could move forward. To have it happen so quickly was exciting. Most recently I was nominated and actually won the 2016 Kootenay Influential Women in Business award for the East Kootenay. When I stood up to accept the award in front of hundreds of hard working inspirational women, I felt so humbled. It is amazing to have people whom you respect and look up to, actually say that it is YOU who inspires them to reach for their dreams.