Program features
To make it easier for young women business owners to secure financing, we have partnered with Futurpreneur Canada to offer an unsecured joint loan of up to $70,000.
---
Some of the key features of our Youth Loan program include:
Loan of up to $70,000, no security required
WeBC matches Futurpreneur's interest rates
Flexible repayment options and up to six months interest only
One-time loan administration fee of 1% before disbursing the loan
No penalty for early repayment
Free, ongoing business advice from your personal Business Advisor
Mentoring
Free business skills training
*To have your WeBC application fee waived, please make sure that you identify us as the community partner when you fill out the Futurpreneur application form.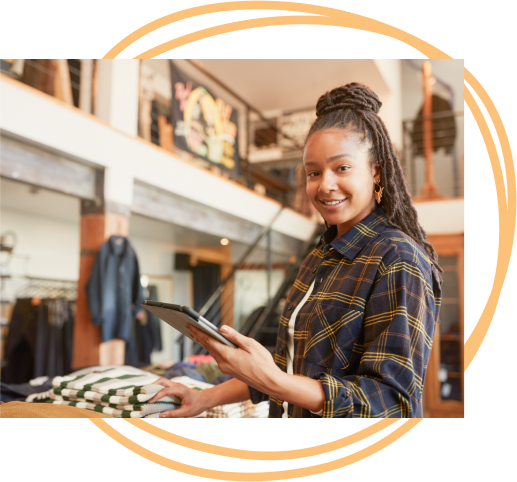 All applicants must be:
Between the ages of 19 and 39
A woman (or women) who owns and controls at least 51% of a business that is registered and located in British Columbia
A Canadian citizen or permanent resident
Residing in British Columbia
You will also need the following:
(Don't worry, we're here to help)
Market research confirming demand for your product/service
Monthly cash flow forecast for the next two years of operation
Historic financial statements of the business (for purchase)
Copy of the proposed purchase agreement
More Business Planning Resources, click here
Check out our Business Plan Review Service
WeBC will look at your credit history and weigh it against the strength of your business plan.
While your credit history doesn't need to be stellar, we can't consider you for a loan if you have an outstanding bankruptcy or judgment.
It's a good idea for you to find out where you stand with your credit rating before you apply – and we can tell you how in our free phone-in Business Loan Info Session.
Businesses have a greater probability of success when the owner makes a financial contribution.
When you apply for a loan, you will need to show personal equity investment in your business. Equity can be in the form of cash and other assets that will be used in the business, such as equipment, inventory, etc.
The minimum equity requirement for the youth business loan is 10% of the loan amount, instead of the usual 25%.
You don't need to have owned a business before to meet our criteria, but you need to have the skills to operate and manage a business successfully.
Your business skills may have been gained through work experience, education, volunteer positions or other personal background. In addition to knowledge about the operational aspects of your business and industry, you will also need to have some knowledge of financial management, marketing and sales.
To boost your business skills, check out our upcoming workshops or view on-demand learning options.
Ineligible projects
If a project falls into one of the categories below, it is not eligible for WeBC financing:
Projects in the pre-start-up phase for which seed or early-stage capital is required
Any business in which the owner does not have operational control over important aspects of the business (this may include some franchises)
Any business for which the majority of gross revenues do not come from direct sales of the business's products or services (i.e. Multi-tiered marketing projects)
Any investment that can be considered speculative
Refinancing of existing debt from another lender
Loans greater than $70,000 ($50,000 from WeBC plus $20,000 from Futurpreneur Canada). WeBC does offer business loans up to $150,000 with different qualifications, terms and conditions.
Loans for a project that requires funding above $70,000, but which hasn't secured the additional funding
How to Apply
If you intend to apply for a loan from WeBC to start, expand or purchase a business you will need to provide all items on the Loan Application Checklist, and participate in one of our bi-weekly phone-in info sessions about the loans program.
Sessions are held every second Tuesday at noon (PST). During this session, the facilitator will:
Review our lending criteria
Answer your questions
Advise you on how to apply
Provide you with a resource package
An Advisor will work with you to determine if you are eligible for a loan with us.
If you have already attended a Business Loans Information session and would like more information or an application, please email Kelly Masson, Business Advisor.
Ready to take the next step? Register for our free business loan info session.
REGISTER NOW
Frequently Asked Questions - Business Loans
WeBC provides loans for BC women who are Canadian Citizens or Permanent Residents of Canada and who are starting, purchasing or expanding a business in BC. We determine whether:
The business idea is strong, realistic and workable
The strategy to carry out the plan is viable
The business is at least 51% owned and operated by women
The owners have the necessary skills, talents and experience to implement the plan
At its discretion, WeBC may fund competing business ventures.
Our free phone-in Business Loan Info Session provides you with more information regarding our lending criteria and the application process.
We want you to have a good understanding of our program and what you'll need before you apply.
Participation in our free, phone-in Business Loan Info Session is necessary to provide you with all the information you'll need, including instructions on how to apply for a loan.
We can guide you through the process to get your plan in shape, including helping you put together financial projections. Some ways you can fill gaps in your business plan include:
Still have questions? Call us at 1.800.643.7014 or send us a note and our Client Service team will help you find the resources you need or connect you with a Business Advisor who can answer your questions.
We do everything we can to work with you to ensure the loan is right for your situation, and to avoid saddling you with debt for a business that cannot support you. We want you to succeed!
Unlike traditional lenders, our business loans are bundled with complimentary, professional support to help you make the most of your loan. As a loan client, you will be matched with a personal Business Advisor who works with you throughout the term of your loan and beyond to give you hands-on support on any issues that may come up in your business.
If your business plan is strong and workable and you have developed the skills and traits needed to operate a business through other means, then your application will be given full consideration.
WeBC believes that learning business skills is critical to your success, so we offer many ways you can gain knowledge and confidence in business:
Once we have received all of the information we require, it will take approximately four weeks to complete our assessment and give a final lending decision.
The length of the process depends on the completeness and complexity of your plan and your level of experience.