Ariss Grutter and Tess Gobeil, Awl Together Leather, Vancouver

Ariss Grutter and Tess Gobeil's joint venture, Awl Together Leather is more than just a custom leatherwork and shoe repair studio. Offering a wide range of services related to leather including alterations and repairs as well as small goods production, the pair is dedicated to building a community hub where people from all walks of life can connect and learn the art of leatherworking in a safe environment.
Running a small leather repair and alterations business, Ariss reached out to Tess when things started to pick up during the pandemic. After just a few months working with each other, it was clear that the small studio space was not sustainable long-term. With Ariss already thinking about expanding and with Tess possessing the skills to offer increased revenue, the timing just seemed right, and Awl Together Leather was born!
We cater to anyone looking to have their leather repaired! We see a lot of motorcycle lovers, vintage collectors, costume departments and regular people.
After speaking with a business advisor and gaining help with their business plan from Women's Enterprise Centre they applied for and gained a Loan from Vancity to acquire their new space. With the additional help of a very successful Kickstarter campaign, the pair were able to open the doors to their new studio in May 2021 with the help of their community.
It enabled us to put our ideas to action! We knew we needed a bigger space, but without additional financing, it's very difficult to take the leap up the ladder. It was incredibly heartwarming to see the community come out for us and made a big difference in our starting momentum.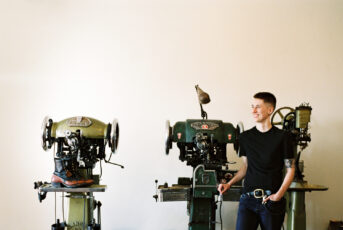 Their community is a driving force behind the co-owner's business ethos and the pair are giving back in various ways. They have partnered with local organisations The Learnary and The Vancouver Repair Collective (Free Geek, Frameworq, Repair Matters) to present virtual repair events and also support an organization close to their hearts, the Downtown Eastside Women's Shelter.
Moving forward, post pandemic, they want to host more community-based events offering classes and tutorials for DIY and hobbyists encouraging people to repair and reuse. Believers in sustainability, the pair hope to use their studio to create a community hub in the leatherworks industry.
There are very few people who offer the range of services we do, all in one studio, so we often end up having all sorts of odds-and-ends projects in the shop at any given time.

As millennials, we felt a large portion of our peers have never considered repairing their goods – and those that have may not have had the best experience in doing so, so we are also conscious of spreading the gospel of repair far and wide.
Looking to the future they see themselves expanding to potentially opening another location, hiring more staff and participating in more community events.
With 82% of the current the shoe repair industry in Canada being male and aged 45+, their goal is to train more Female, Queer, Trans and/or BIPOC people with the hopes of fostering a new wave of Leatherworkers so industry can grow and flourish.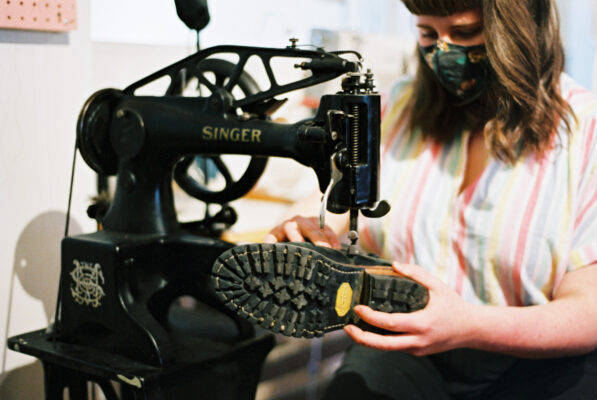 We feel strongly that there is more room for skilled people in this industry and we hope to provide training that is equitable and valuable.
Client Q&A
Q. What struggles or barriers have you encountered as you've grown your business and how have you overcome them?
The biggest challenge we have faced was a lack of representation in our own industry – it was a driving force behind why we wanted to create Awl Together Leather. Both of us have worked in a variety of positions within leatherworking (shoe repair, shoemaking, custom kink gear, shoe shining, etc), often in shops/factories where women/queers are virtually non-existent.
This underrepresentation left us without mentorship and undervalued for our skillset – often leaving us to do more feminized work such as customer service while our male colleagues were trained to operate the heavy machinery. Our new shop is the first and only queer-owned shop in Canada (possibly North America) and the only female-owned shop in Western Canada.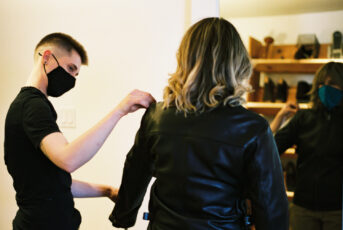 Q. What important role does your business play in your community?
We aim to provide a safe employer, for people to enter our industry who otherwise wouldn't – currently, everyone who works in Awl Together Leather is queer, trans or female. In addition, we are able to rent space to shoemaker Amy Slosky, who now runs her shoemaking business out of ATL. Amy offers a skilled service that is difficult to find and we're very grateful to both boost her business and have our own enriched by it.
For our customers, it's our hope that we can provide classes and services (specifically leather alteration) that can't be found anywhere else in Vancouver, taught by unique Leatherworkers. It's important for us to connect with people in that way. Covid-19 has put a stopper in these plans, but we're hoping that Spring 2022 will bring about the opportunity to collectively learn.
Q. How have you built confidence in yourself and your business?
This sounds cheesy – but by being ourselves and continually focusing on the good we can provide for our clients.
Our branding is built around us, in many ways, because we understand how unusual it is to walk into a leather repair shop and be served by two young, queer women*. Cobbling especially, as a profession, has lost its clients' confidence in the past 30 years due to a lack of explaining what we can do, what our services can look like, and producing reliably skilled work. It's important to us to lay it all out there, present options, and provide the customer with the best outcome we can.
*Ariss is non-binary but for simplicity doesn't mind referring to the business as female or women-owned. They use they/them pronouns when referred to individually. Tess uses she/her.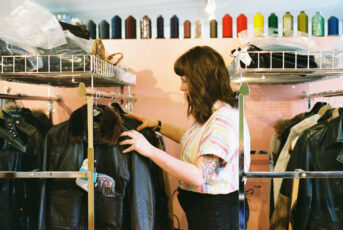 Q. If you could give one piece of advice based on what you have learned or experienced, what would it be?
Charge what your time is worth. Work out your operating costs and calculate your invoices based on a realistic value of time. Ariss was only able to hire their first staff member and start to expand the business when they increased prices based on time-tracking jobs and charging accordingly.

---
Where to Find Awl Together Leather
---