Our Purpose
As BC's leading business resource organization for women, our passion is to support women entrepreneurs along their small business journey.
We exist to empower women entrepreneurs to make an impact in their communities and create opportunities in BC's economy.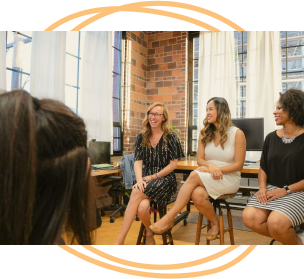 Our Story
In 1994, Pacific Economic Development Canada (PacifiCan), which was then known as Western Economic Diversification Canada (WD), identified critical gaps in access to financing and services for women entrepreneurs. To fill these gaps, they committed funds to create Women's Enterprise Initiatives (WEI's) in the four western provinces.
The Women's Enterprise Initiative includes WeBC, Alberta Women Entrepreneurs, Women Entrepreneurs of Saskatchewan and Women's Enterprise Centre of Manitoba. Since 1995, we have collectively provided over $220M in direct and leveraged financing and created or maintained over 7,700 jobs in Canada.
SINCE 1995
$2.29B
in economic activity created, as a result of our funding
68,850
one-on-one business advisory services provided
48,591
women hosted in 2,333 training sessions
WHAT WE OFFER
Our Values
Collaboration
We build connections and forge strong relationships to enrich the lives of those we interact with.
Possibility
We embrace the power of curiosity, learning and mentoring to build a growth mindset.
Diversity
We seek to maximize the potential of different opinions, backgrounds, and cultural references, and strive towards a community of belonging.
Trust
We support each other, listen with intent, and are accountable for our actions.
Celebration
We celebrate the journey and accomplishment of each entrepreneur and lift each other up.
Our Commitment to Diversity, Equity, and Inclusion
WeBC believes in a world that is inclusive in approach and equitable for all. We are committed to creating an environment centred on diversity, equity and inclusion for our team, our community and the entrepreneurs and business owners we serve.