Personal support from someone who's walked the walk
WeBC's One-to-One Mentoring program helps you develop your capabilities and skills, manage risk, and achieve your growth goals. To date, we've made over 2,400 matches in our mentoring programs! Meet our amazing mentors.
---
Some of the key benefits of our program include:
Advice and support from an experienced business owner
Relief from the isolation of business ownership
Leverage insights from your mentor's experience
Validate ideas and make decisions with confidence
Gain fresh ideas and perspectives
Shorten the growth learning curve so you can avoid costly mistakes
Our Mentors are experienced entrepreneurs who understand the ups and downs of owning a business and can share their hard-earned knowledge. We interview every Mentee and Mentor, so we can personally match you with a Mentor with the right experience.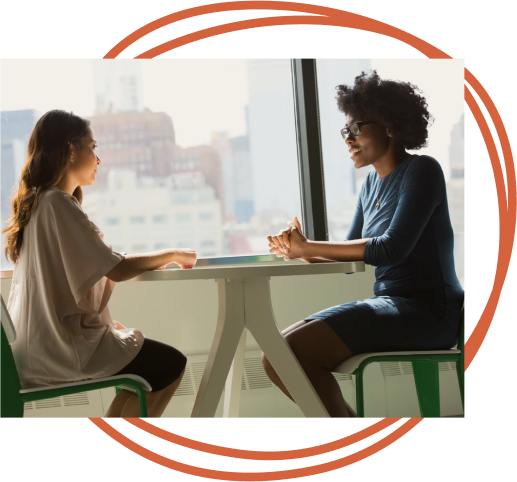 Actively operate a business in British Columbia that generates revenue.
Be focused on growing their business.
Be a woman over the age of 19.
Be available to meet with your Mentor for a minimum of two hours a month for six months.
* Please note that 'pre-startups' are not eligible for the mentoring program, however you can seek professional guidance from our Business Advisors.
Application process
WeBC offers multiple intakes throughout the year. Each intake is open for five days, during which women business owners can apply to be matched with a mentor.
The number of matches made for each intake is dependent on the number of mentors available.
Matches are made in the two weeks following the interview period.
WeBC Loan Clients can request to be matched with a mentor at any time for free—you do not need to wait for an intake. To access this complimentary support, please contact your Business Advisor.
Frequently Asked Questions - One-to-One Mentoring
One-to-One Mentoring matches women business owners with more experienced women entrepreneurs who can encourage their business growth. Matches are based on:
Industry experience or knowledge
Mentor business expertise and Mentee business challenges
Location
Personality
Mentors and Mentees will meet for a minimum of two hours a month for six months; meetings can be held in person, by phone, e-mail or online tools.
Mentees develop three business goals they would like to achieve over the course of the six months they are working with a Mentor. Those goals then become the basis of the mentoring relationship.
By focusing on achieving their goals with the support and guidance of a Mentor, Mentees will develop the confidence and skill they need to succeed in business.
A Mentee is an entrepreneur who is motivated and committed to work towards her business goals and report on any progress or stumbling blocks to a Mentor.
Mentees must be willing to:
Dedicate a minimum of two hours a month to the mentoring relationship
Set three business goals to work towards
Receive constructive feedback
Accept suggestions and advice
Be open to new ideas and change
Be respectful of their Mentor
Take initiative in maintaining a relationship with a Mentor
Commit to the development and growth of their business
Women can find power and confidence in sharing their concerns with a Mentor who is a guide, a role model, a sounding board and a supporter. This can help women tap into the experiences of mentors for a second opinion – or sometimes emotional support – and think ahead with clarity and vision.
Mentees benefit from:
Receiving personalized advice
Improving their business knowledge
Receiving an outside perspective
Increased productivity
Growing confidence from support regarding business decisions
New networks and partnerships within the business community
Emotional support
Relief from isolation through regular, supportive contact with someone who cares about them and their businesses
All applications will be reviewed for eligibility. Successful applicants must be:
Actively operating a business in British Columbia and generating revenue
A woman over the age of 19
Available for a minimum of two hours a month for six months
Growth-oriented
Eligible applicants will be contacted by our Mentoring Coordinator with further details about participation in the program.
We have multiple application intakes throughout the year. If you are eligible and would like to participate in the One-to-One Mentoring Program, be sure to sign up for our eBlasts for the latest updates on the intakes of our Mentoring Program.
If you are a loan client of WeBC, you may apply to be matched with a mentor anytime; you do not need to wait for an intake, and the program is complimentary as part of your loan care. Please contact your Business Advisor for more information.
Pre-start-ups are not eligible for the mentoring program; however, you can seek free professional guidance from our Business Advisors.
We encourage Mentees to make specific Mentor requests!
If there is a person in business who you would like to connect with to become your Mentor, please include their name, business and contact information on your application form and we will try to facilitate a match by approaching them on your behalf.