Why mentor?
Women entrepreneurs around BC are looking for experienced business owners to help them navigate the stages of their business growth via WeBC's One-to-One Mentoring and Peer Group programs.
---
Key benefits of becoming a mentor:
Learn new skills—75% of WeBC mentors say that being a mentor has helped them in their own business
As you share your own insights and perspectives with your mentee, gain new ones yourself
Connect with other WeBC mentors to extend your business networks, share resources and tap into new ideas
Give back to your community
MEET SOME OF WeBC'S MENTORS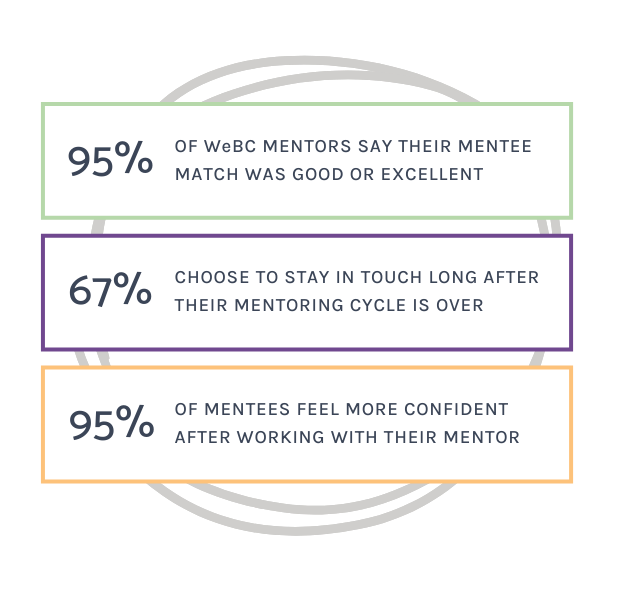 To be a mentor, you
should have:
5 plus years (or equivalent experience) operating your own business
The willingness to communicate, empathize and inspire trust
The availability to commit to 6, two-hour sessions over a six-month period (minimum of 2-3 hours per month)
We are currently looking for mentors for the following mentoring programs:
One-to-One Mentoring: As a mentor, you will be matched with a woman who is in the early stages of operating her business for a six-month mentoring relationship.
Peer Mentoring Groups: As a peer mentoring group facilitator, you will lead a group of up to eight women as they work through their business challenges and opportunities using a solution-based approach. The group meets six times and decides the focus of each discussion based on the interests and needs of its members (e.g. work/life balance, marketing, networking skills, cash flow management).
Mentors volunteer a total of 16-20 hours over the course of the program, including their facilitator training, prep time and one-on-one or group sessions. The schedule is very flexible and is set by you and your mentee(s).
Yes, we provide training to prepare you for your one-to-one relationship, or to help you facilitate a group of up to eight mentees.
You don't have to have all the answers! You are supported by a team of professional Business Advisors who can assist your mentee(s) with their business questions.
Mentees are women business owners who are actively operating a business in your community. Our team personally interviews every applicant to find motivated entrepreneurs who have the appropriate level of business foundations to benefit from the program, and who are open to having input from a mentor to help them reach their business goals.
For Peer Mentoring Groups, we provide the tools required to facilitate each session (handbooks, journals, forms, etc.) as well as supporting resources, including webinars and worksheets. Meeting expense allowances are provided to supply refreshments for each session and cover any printing and travel (if required).
For One-to-One matches, we will send you and your mentee welcome packages so you have everything you need!