WeBC is proud to be the BC Loan Fund Partner for the national $34 million WEOC National Loan Program for women and non-binary entrepreneurs as they start, scale, grow and maintain their business.
For women entrepreneurs in BC, the first step to accessing funds is to connect with us at WeBC!
---
WEOC National Loan Fund Details
Loans are available to all industries/sectors
Maximum loan amount is $50,000
Term loans of up to 5 years
Maximum interest rate is Prime + 4%
Maximum loan administration fee: 1% or up to $500 per loan, if approved
Loans issued by WEOC to eligible borrowers are not grants, contributions or forgivable loans
Loan can be repaid at anytime without penalty
WEOC handles all loan administration including loan application funding decision, loan documentation, payment and collections
No minimum equity requirement but equity strengthens the viability of the business
Security is not required but can be offered and may strengthen the application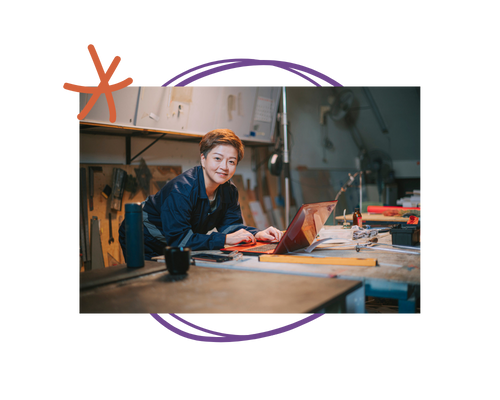 All applicants must:
Be over 50% woman-owned
Have less than $2 million in gross annual revenues
Be owned by a Canadian citizen or be a legal entity owned and controlled by a Canadian citizen
Have a business plan, including cash flow forecasts for a minimum of two years
Individuals submitting loan applications must be:

At least 19 years of age
A Canadian citizen or Permanent Resident
Residing in Canada
Eligible expenses
Capital assets (including machinery/equipment, leasehold/property improvements)
Office and equipment rental
Salaries and benefits (excluding owner's salary)
IT/Software license purchase
Professional services
Inventory/Supplies
Intellectual Property
Working Capital (e.g. payroll, lease payments, accounts management, rent, overhead costs)
Digital (including website/E-commerce development)
Marketing/advertising/business promotion
Employee training
Short term receivable financing (i.e. financing to service a contract)
Business start-up costs (legal fees, business incorporation fees, business plan preparation, etc.)
For a list of ineligible expenses, please visit the WEOC website >>>
How it works
Applicants in BC will work with a WeBC Business Advisor to prepare application documents, including a business plan and 24 months of financial projections.
Once the documents are ready, the Business Advisor will connect the client with the WEOC loan application portal.
WEOC delivers the loan application funding decision, loan documentation and payment.
Loan clients can access free wrap-around supports throughout their loan, including advisory services, training and mentoring from WeBC!
More questions?
Learn more on the WEOC website:
How to Apply
The WEOC National Loan Program is now open for applications! Join us for a special info session on November 22 or December 6 to learn about the program and ask your questions.
Our regularly-scheduled Business Loan Info Sessions are offered bi-weekly at noon (PT), and cover both the WeBC Loan and WEOC Loan programs. During this session, the facilitator will:
Review lending criteria and eligibility criteria for each program
Answer your questions
Advise you on how to apply
Provide you with a resource package
Ready to take the next step? Register for our free business loan info session
Register Free
The WEOC National Loan Program is possible with funding provided by the Government of Canada through the Women's Entrepreneurship Strategy.