Partner with Us
It takes a community to support an entrepreneur, and WeBC is here to assist our community partners in providing the lift required to help business owners realize their full potential.
Local support, local impact
From the Island to the Mainland, from the Kootenays to the North, WeBC works alongside you to help increase the success of small women-owned businesses, create jobs, develop networks and promote a diverse, thriving business community. WeBC collaborates with local business service providers, associations and women's business networks to bring our services to communities throughout BC.
Contact Us to Discuss Partnership Options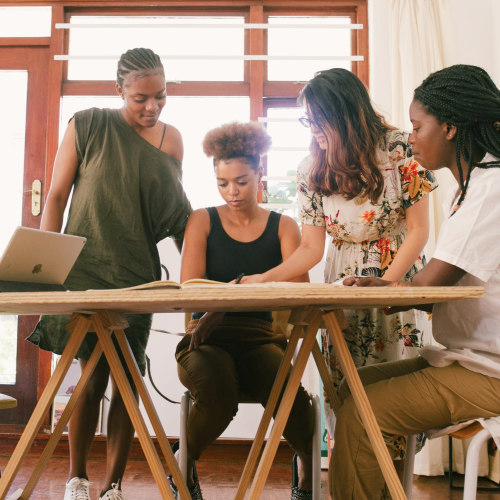 Partner with us to support YOUR clients with:
Customized Course Partnerships
WeBC workshops are designed to enhance business capacity and fuel success. Our training adds value to the services you already offer by providing essential business training in a supportive environment for busy women entrepreneurs.
Our training features:
Practical, applicable skills that are 100% relevant to the successful operation of a small business
A range of subjects proven to be pivotal to small business success and relevant for entrepreneurs in every stage of business
Success‐oriented workshops developed by industry experts, many of which feature local business owners as storytellers to add real‐life examples
Our workshops are customized for your needs and each is specifically tailored to the audience—reflecting their demographics, business or professional experience, industry and geographic region.
We work alongside our partners to host and partner on a number of small business events and workshops throughout the year. Show your support for women entrepreneurs with WeBC speakers, panelists, in-kind or promotional support for select events around BC.
Lessen your risk, yet ensure your loan clients get the support they need to move forward with additional funds and wrap-around services. We partner with other lenders to provide business loans and wrap-around support so your clients can access the capital they need.
Bundled with free, ongoing business guidance, training and mentoring, our business loans of up to $150k can help women:
Start, grow or buy a business
Develop new domestic and international markets
Enhance productivity and take advantage of growth opportunities
Special considerations for immigrants, youth and Indigenous women are available
You may wish to refer a client to WeBC for services when:
You want to share the risk with another lender
You can't advance additional funds but they need financing to move forward
Contact Melanie Rupp, Senior Director, Loans & Advisory Services, to learn more about financing partnerships and referrals.
We've been supporting women entrepreneurs to start, grow and sell businesses for nearly three decades. We have an unparalleled understanding of the approaches to business and financing that work for women business owners.
We can provide advisory services, resources, export support, custom mentorship programs and more!
Contact Shauna Harper, CEO, to discuss your needs and see how we can help you make an impact for women entrepreneurs in your community.
The power of collaboration
55
partnerships in 2021/22
193
communities reached with our training alone, in 2021/22
204
speaking engagements, events and tradeshows, in 2021/22