Learn about the financing options available through WeBC!
WeBC has a Business Loan Program, and we are the BC Loan Fund Partner of the WEOC National Loan Program for women and non-binary entrepreneurs.
If you would like to access these programs to start, expand or purchase a business you will need to participate in one of our free phone-in info sessions about the loan programs.
During this session, the facilitator will:
Review our lending criteria for each program
Answer your questions
Advise you on how to apply
Provide you with a resource package
An Advisor will work with you to determine if you are eligible for a loan.
If you have already attended a Business Loans Information session, and would like more information or an application, please email Kelly Masson, Business Advisor.
These FREE phone-in sessions are held every second Tuesday from 12pm to 1pm Pacific Time, unless otherwise noted in the form below.
---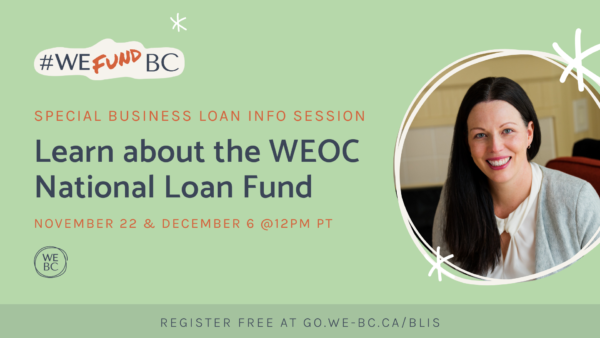 You're Invited! Join Us on for a Q&A about the WEOC National Loan Fund
The WEOC National Loan Program is now open for applications, so you're invited to join us for a special info session on November 22 or December 6 to learn specifically about this program and ask your questions. If you can't make it to a specialty session, you can still learn about both the WeBC loan program and the WEOC loan fund in our regularly-scheduled loan info sessions. Please register for either option using the form below.
---
Registration form
Simply phone-in using the number emailed to you when you complete the registration form.