Meet Amy Rafferty, the powerhouse behind The Velvet Underground, a Vintage and second-hand clothing store and a Plant-Based coffee bar based in Whistler BC.

As a passionate environmentalist, Amy was bothered by the waste produced by the fashion industry and actively sought ways to encourage a circular lifecycle for modern clothes. Starting from her bedroom in a big share-house, Amy would throw "clothes & wine parties" for her friends and sell designs she had made along with second hand and vintage items from her own wardrobe.

Quickly outgrowing her household set-up, and then a commercial sewing studio she was looking for a better solution. When the opportunity for a commercial space opened up she snapped it up, Jumping head first into not one, but two businesses.
I knew I loved thrifted fashion, I hated fast fashion and I wanted to provide people with a solution to purchasing new clothes. Opening a vegan café at the same time….because why not? I figured seeing as I had 8+ years experience as a chef in fine dining that would be the easy part, what I didn't realise is how hard running a business would be.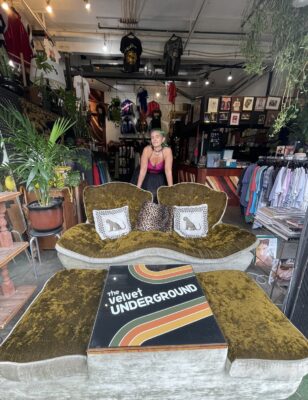 Joining the WeBC's Mentoring program was a game-changer for Amy and her business. She was able to gain valuable financial knowledge and bookkeeping skills that increased her confidence in managing all areas of her business.

Going from strength to strength, Amy plans to grow her business to a million dollar company, operating in 2 locations globally in the next five years.

Dedicated to building a community promoting self-expression through fashion, art, and music, Amy is all about positive impact. She is currently continuing her mission in educating and inspiring a more sustainable and conscious lifestyle both for the people and the planet.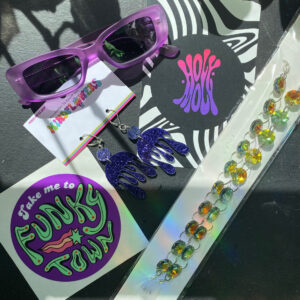 Mentee Q&A
Q. What inspired you to join the mentoring program?

Getting a mentor was one of the best decisions I ever made.

When I started my business I had absolutely no idea what I was doing. I first came across Women's Enterprise when I was about 6 months into my business journey.

I'd burnt through almost all my cash, was running the business alone, open 7 days a week, with 5-6 mostly part-time staff, and essentially 3 separate businesses that I was trying to run simultaneously. It was a really stressful time.

I knew the financial side of my business was in disarray so I opted for a mentor to support me in that area. I was paired with the most amazing woman Sarah. Sarah was a financial, accounting, money guru.
Q. What struggles or barriers have you overcome as you've grown your business?
My bookkeeping was a disaster, so my mentor, Sara showed me where and how it wasn't working. She supported me through the process of letting go of the person I had at the time doing my books, and helped me find a new bookkeeper.

Next she showed me a bunch of tools and apps that could help make monthly remittances faster and track my expenses and sales.

I now have a clear snapshot of my business numbers that helps me stay organized and on top of what is going on financially at all times.
Q. What's the biggest lesson you learned from your mentor?
Fun fact: at the start of 2020 I went to the Tony Robbins business mastery. In the financial part of the week-long seminar they told us about a budget/ spreadsheet identical to what Sarah had taught me. Out of 2500 entrepreneurs attending when asked who used this tool about an 8th of the people put their hands up and I was one of them!

I love telling this story because It's such a testament to how valuable Sarah's teachings were.
Q. What other services has Women's Enterprise Centre supported you with and how have these services helped you?
I have been a part of the Export navigator program which has been such a great support as well. They have always been there to offer guidance no matter how small my current export program is.

Women's enterprise really opened my eyes to all the support that's out there for women entrepreneurs.
I'm kept in the loop about everything and anything that could help me on my business journey, such as new grants, competitions, courses and all sorts of other information.
Q. What personal growth have you experienced since participating in the program?
Often when you're in the trenches of running your business, the entrepreneurship journey can be so lonely.
You're working all the time so you lose your connections or maybe you're the first one in your circle of friends to start a business so you don't know anyone who can help you, or relate to the problems you're facing, but there truly are so many resources and support out there.

I now rely so heavily on mentors and coaches, and I know they will be a part of my learning and growth, for as long as I have a business no matter how established or successful it becomes.
Q. Based on what you have learned, what advice do you have for other Women Entrepreneurs?
You can't learn to swim without getting wet, just get in there and do it and trust that everything is exactly as it's meant to be.


---
Where to Find The Velvet Underground