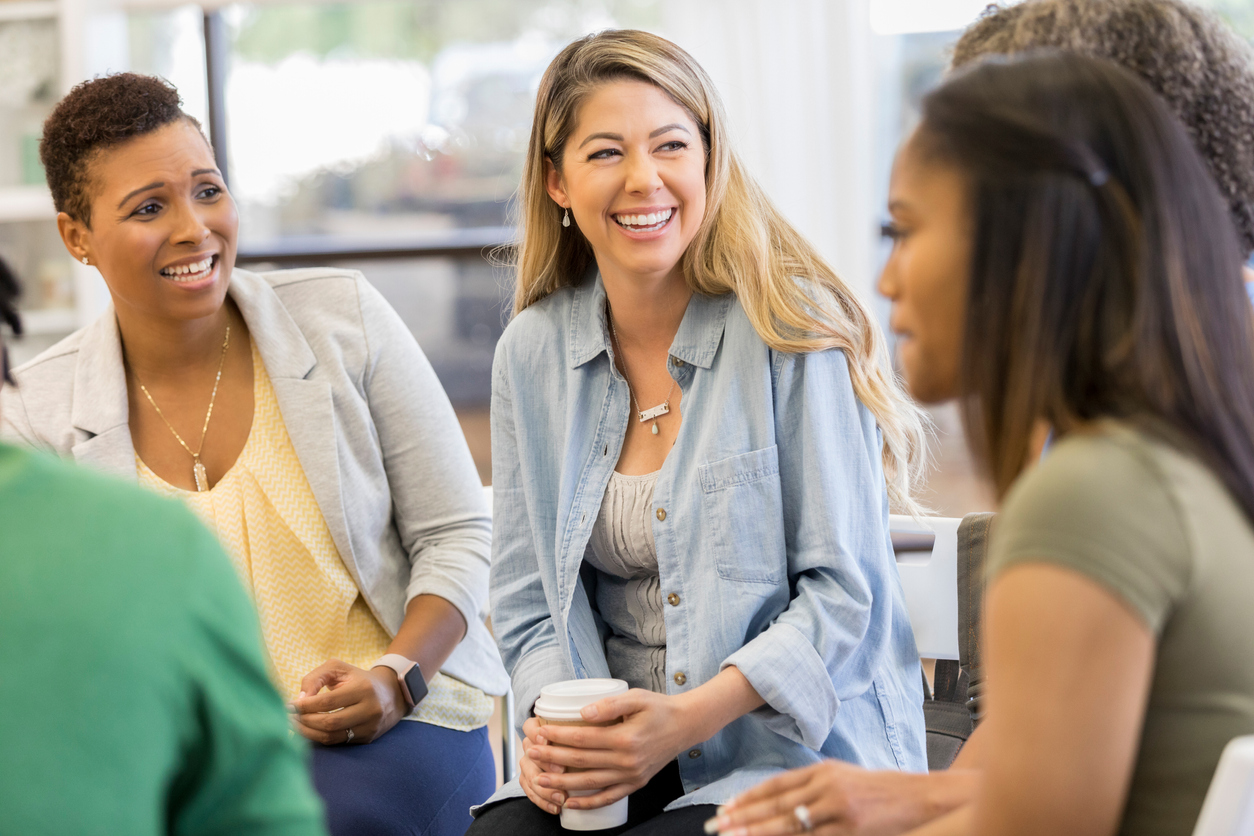 As the Mentoring Program Manager, I talk to a lot of women business owners. They tell me all the time, "I can only talk to my friends and family so much about my business."
They need someone to bounce ideas off of, to pep them up when they're spiraling or give them advice when they don't know which path to take—someone who doesn't give them the glazed-over look when they're talking about their new marketing plan!
Mentoring can provide that support, and most people are familiar with the traditional One-to-One Mentoring format. But, actually, a Peer Mentoring group might be even better for you to combat your feeling of isolation!
I get a lot of questions about the format – what it is, and what it is not. So I'm going to bust some of those myths:
Peer Mentoring Myth #1: I won't get the attention that I need.
Truth: Six heads are better than one.
A lot of women business owners, particularly in their first five years of business, are solopreneurs. They're doing the marketing, the operations, the sales, the financials, the product development – all by themselves!
In a Peer Mentoring group, you get the experience of your mentor, but you also benefit from the diverse viewpoints of the other group members.
There might be a woman who runs a marketing firm but needs guidance with her financials. And in her group, I would place a bookkeeper with years of experience in financial management who needs help growing her business on social media.
So they'll both work with the experienced mentor, but they can also provide another layer of help for each other in the areas where they're strong.
"As a solopreneur working from home, my business life and efforts have seemed like 'shots in the dark' without any feedback until the shot has been made. The feedback was from clients or was simply silent; in other words, I missed my target. The group was critical to help me know that I'm not on some wild and meandering path and that others have had similar questions. I became more clear about what stage I was actually at in my business. This was an empowering move! The group support was astounding."
Peer Mentoring Myth #2: I don't have time to sit around and talk about my feelings.
Truth: We use solution-based action learning, so you leave with specific strategies and takeaways.
You may wonder whether a Peer Mentoring group turns into a bunch of women complaining about how hard it is to run a business.
Actually, our format uses structured sessions with action learning. So you'll come with a specific problem or opportunity in mind, then the group will discuss the challenge and brainstorm solutions (guided by the mentor). You'll develop an action plan, then go out and implement it.
Next time, you'll come back and report on your progress. Did it work, or was it a flop? How can you adjust your strategy? Was it super successful and something your fellow mentee can use in her business?
"Smart, dynamic, uplifting. An avalanche of support and focused mentoring led by [our mentor] – one of the best in the business. I left with clarity, energy and increased vision – buoyed by a team of generous entrepreneurial women."
Peer Mentoring Myth #3: My competitors will learn too much about my business.
Truth: We make sure you're non-competing.
We interview every woman to make sure we don't have any competing businesses in each group. We want to create a safe and confidential environment so you feel comfortable sharing!
We find a lot of the challenges that women business owners face – like work/life balance, growing their sales, managing too much demand, – transcend industries, and our mentees appreciate the different points of view from different types of business owners.
"I liked that, right from the beginning, our mentor set a welcoming tone of confidence and trust. Even though all our businesses are in vastly different stages and industries, I always felt welcome and confident that anything said would be held in strict confidence and that it was a safe place to discuss just about anything. I appreciate that everyone was there to learn and were so respectful of others ideas and opinions, even when they were disagreed with."
Peer Mentoring Myth #4: I won't get mentoring from an experienced business owner.
Truth: You still get matched with a Mentor.
Every group is led by an established entrepreneur in your community who has been through a lot of the same situations you're dealing with, and has come out the other side. The mentor has a knowledge base from her years of running a business, and she'll share her insights based on her own experiences.
"Our mentor is awesome – no matter what she does, she is a true leader and role-model, a great leader for this group."
Peer Mentoring Myth #5: It's a glorified networking group.
Truth: The relationships you make are an added bonus of Peer Mentoring groups, but we also dive into the issues that you wouldn't be able to address at a networking event.
One of the top issues we hear from our clients is that they're short on time, and building your network can be time consuming – deciding where to go, who to meet, how to connect with them.
Our groups are made up of women entrepreneurs who are being intentional with their time, they want to connect and they want to build their networks and support system for the long-term.
"I love that I have built relationships with these women who will be able to provide support to me and I them moving forward. I have a renewed outlook on my business and balancing it all to be effective."