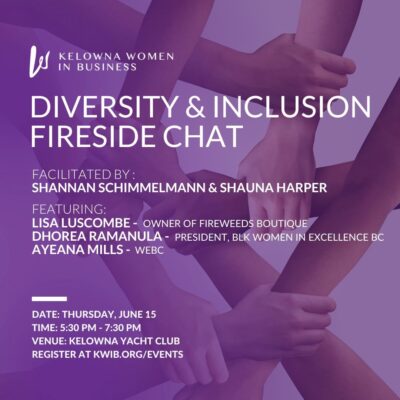 Are you passionate about creating a more inclusive world and being a catalyst for change? Join Kelowna Women in Business for their next Fireside Chat on Dimensions of Diversity and Inclusion and be part of a transformative dialogue on embracing diversity and fostering inclusivity.
Shannan Schimmelmann and Shauna Harper will guide a panel discussion to explore different perspectives and gain valuable insights on what it means to be more inclusive in our lives. You will hear personal stories, expert insights, and practical strategies to apply in your own life and community. This intimate gathering will provide a safe space for open conversations that challenge biases, broaden perspectives, and create understanding. There will be opportunities for everyone to participate and contribute their unique perspective.
✨ Learn about the power of allyship and how to be an effective advocate for inclusion.
✨ Discover actionable steps to create equitable opportunities for all.
✨ Engage in meaningful dialogue with panelists and fellow attendees.
✨ Be inspired to make a positive impact in your own spheres of influence.
We believe that change starts with conversations, and this intimate fireside chat is the perfect platform to initiate those conversations. Join us as we celebrate our differences, break down barriers, and foster an environment where everyone feels seen, heard, and valued.