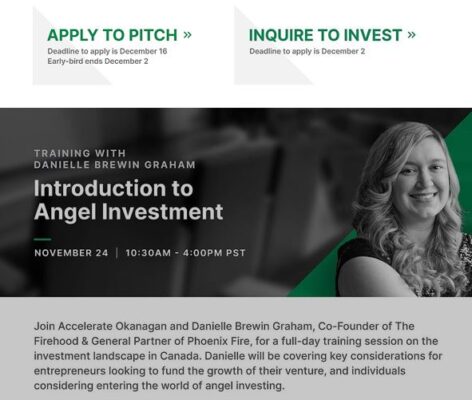 Accelerate Okanagan is proud to announce the opening of applications for the fifth-annual OKGN Angel Summit. An investment of up to $250,000 for a Western Canadian company is up for grabs!
Join Accelerate Okanagan and Danielle Brewin Graham, Co-founder of The Firehood & General Partner of Phenoix Fire, for a full-day training session on the investment landscape in Canada. This uniquely elevated pitch program guides Okanagan-based investors and Western Canadian startups through the capital-raising process as part of a Dragon's Den-style selection process culminating in a public Grand Finale. On March 16th 2023, the last company standing will be awarded an investment fund of up to $250,000, the largest cheque-size in the program's history.
"The incredible momentum generated by the four previous Summits is enabling us to attract a wider range of investors and a roster of leading capital experts," said Scott MacFarlane, Fund Manager for the 2023 OKGN Angel Summit. "This innovative program is a prime example of Accelerate Okanagan's commitment to creating positive change across Canada and around the world by supporting entrepreneurs, fostering business connections, and strengthening the capital ecosystem."
Through the 10-week program, Accelerate Okanagan has helped hundreds of participating companies learn about the capital raising process and how to effectively build relationships with prospective investors. Meanwhile, more than 70 Okanagan-based investors have received training to proactively learn how to vet companies, provide feedback, and perform due diligence in supporting early-stage companies.