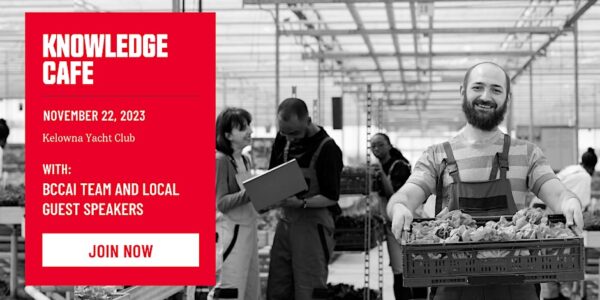 Join us in Kelowna on November 22 for our Knowledge Café event!
The event will be led by B.C. Centre for Agritech Innovation (BCCAI) Scientific Director, Professor Woo Soo Kim; Peter Simonsen, President of B.C. Fruit Growers' Association; Jazz Pabla, City of Kelowna's Director of Information Services; and Susan Murch, Professor, Biochemistry and Molecular Biology at the University of British Columbia Okanagan (UBCO) as well as members of the BCCAI team.
Following the event, select attendees* will have the opportunity to tour the Plant Growth Facility and FiLTER lab at the University of British Columbia's Okanagan campus. Make sure you express your interest in joining the tour when you register using the link!
*Spaces for the UBCO Lab Tour are limited and are available on a first-come, first-served basis.