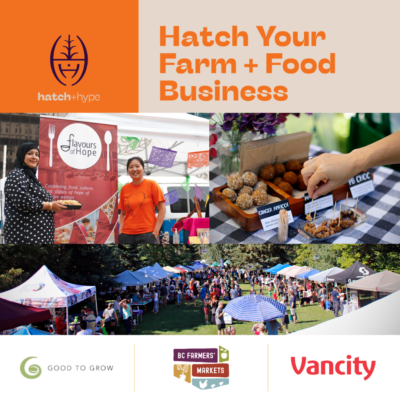 Join us online via Zoom on Wednesday, April 5th, 2023 for Hatch Your Farm + Food Business, a six-part workshop designed and delivered by food industry experts Good to Grow, in collaboration with BC Association of Farmers' Markets, with support from Vancity.
This workshop is ideal for folks who answer yes to any of the following questions:
Do you have an idea for a farm or food business and want to learn what it takes to start?
Do you have a new business and want to start selling your products at farmers' markets?
Are you an existing farmers' market vendor looking to validate a new product?
Learn from someone who knows what it takes to start a food business first-hand and can help you avoid costly mistakes. Andrea Gray-Grant, Founder and CEO of Good to Grow, will teach you how to build a strong foundation and successfully establish your company at the farmers' market – the first point of entry when selling your products.
Workshop Includes:
Roadmapping Your Business
Research Your Customer
Recipe Development – Scaling & Costing
Branding and Labeling your Package
Pricing, Margins and Building in Future Distribution
Building a Successful Farmer's Market Experience
Takeaways:
Access to all of the workshop slides
7 handouts to help you research your market and customer, calculate your cost of goods sold, build an appropriate selling price, complete a competitive audit, source packaging, and more!
This workshop is presented by Good To Grow who is a leader in the food industry sector in collaboration with BC Farmers' Markets who are experts in the Farmers' Market sector!