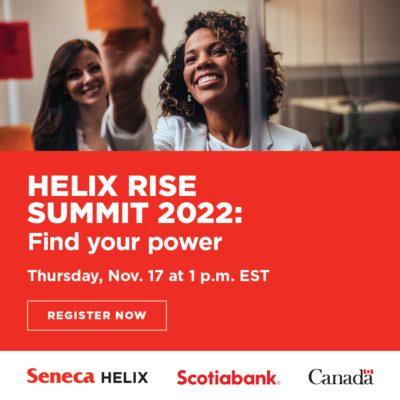 Learn, connect and be empowered at the first annual HELIX RISE Summit. This free, one-day event is designed to help women at all stages of their careers cultivate sought-after job skills and develop an entrepreneurial mindset.
This virtual summit on Thursday, Nov. 17 from 1 to 6 p.m. EST will focus on financial wellbeing and personal branding tailored specifically for women.
This event will give you the opportunity to:
hear prominent female leaders speak about financial empowerment for women
learn key skills in educational workshops focused on financial well-being and brand building
build your professional connections through networking activities
browse a showcase of organizations with services tailored for women and innovative ventures led by female entrepreneurs
learn more about The Scotiabank Women Initiative®
HELIX RISE summit will leave you feeling empowered to pursue your career goals.
WeBC is delighted to be an  exhibitor at this event—visit us at our virtual booth!