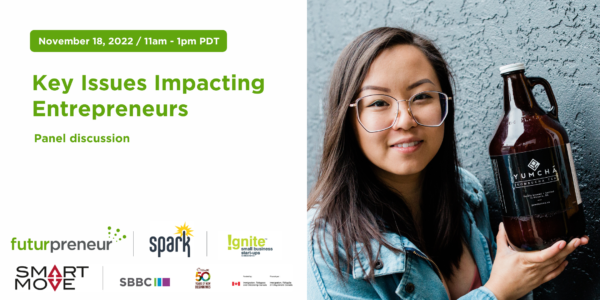 Panel Discussion of Issues Impacting Entrepreneurs Locally in BC
What issues are you facing as an entrepreneur? Listen to a panel of experienced BC entrepreneurs discuss how they tackled the toughest challenges with surprising results to the sustainability of their businesses. Futurpreneur and ISS are excited to support this exciting event for Global Entrepreneurship Week.
Global Entrepreneurship week is an annual celebration of entrepreneurship that takes place in over 180 countries worldwide. At our event, we will be discussing challenges faced by entrepreneurs, FREE resources available to entrepreneurs in BC, real life stories from our panel guest speakers, and you will be encouraged to ask any questions about your idea or business.
Join us and celebrate our entrepreneurs and aspiring entrepreneurs.
Nov 18, 2022 at 11:00 AM in Pacific Time (US and Canada)