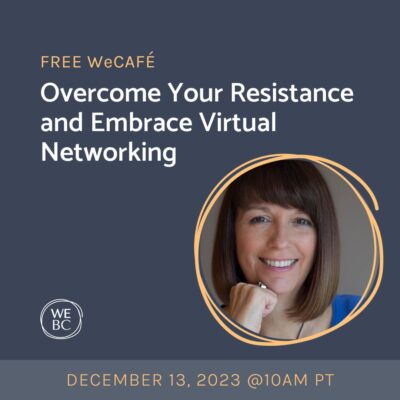 Love it or hate it, virtual networking is here to stay. If you're a business owner, networking is critical to growing your business; in fact, 73% of women entrepreneurs we surveyed say access to new networks is essential to their success.
Virtual networking can be an effective way to save time and reach new markets. So how do you ensure you make valuable connections without feeling like a salesperson?
On December 13, join us for a WeCafé with networking expert and life coach Sue Maitland PCC who will share the secrets to successful virtual networking. She'll share how to:
Reframe your limiting beliefs about networking
Learn the basics of virtual networking
Approach networking with a plan
Hold meaningful conversations that find mutual benefits and go beyond small talk
Follow up in a way that adds value
Join us to ask your networking questions of Sue, and connect with other women entrepreneurs!
Facilitator: Cathy Burrell
Panelist: Sue Maitland, ICF Accredited Life Coach and Networking Expert