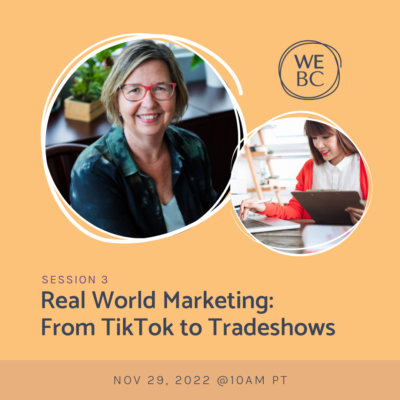 This is the last session in a 3-part series Maximum Marketing, Minimum Effort: Build a Strategy Specific to Your Business. Click here to register to the series and save $10!
Join Cathy for a Fireside Chat with marketing professionals and business owners who will share their experience with different marketing tactics.
Do you have burning questions about Marketing Strategy planning? This is your chance to have your questions answered by real world marketers who will share their experiences, lessons, and tips to help you elevate your efforts!
November 29 | 10am to 11:30am PT | Webinar
Open to everyone and free for WeBC Loan Clients!
The Facilitator
Cathy Burrell, WeBC Facilitator
Cathy Burrell is an entrepreneur with over 20 years of experience owning and operating a variety of businesses. She has a Master of Education degree from the University of Calgary, specializing in adult, community and higher education. She has taught digital literacy and communication education for adults and has worked as a consultant for business owners to give them insight into their digital customer base.
Cathy believes COVID highlighted importance of clear communication, both online and offline. She currently works in Client Services for WeBC helping clients develop their social, listening and critical thinking skills. In her experience, knowing when to talk and when to listen is key to empathy and understanding, and she works with clients to find that balance in their business.