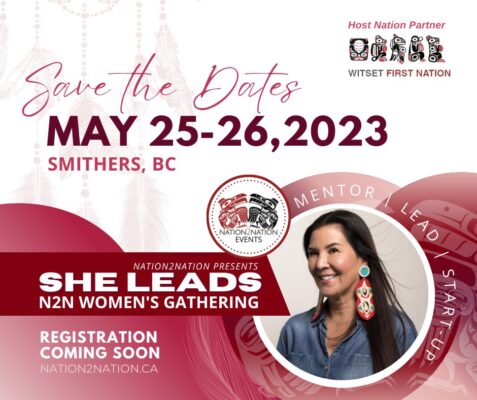 Join Cheryll Wagner, our Regional Ambassador from Prince George, at the first ever N2N "She Leads" Women's Gathering in Smithers,  BC on May 25th and 26th.
SHE LEADS will bring together a diverse group of mentors, leaders and entrepreneurs to inspire and empower women in the northwest to grow into their potential.
This two-day gathering will see panel discussions, workshops, networking opportunities and local small business pop-up shops. Our focus will be on creating opportunities for personal and professional development and making connections to share skills and get mentored.
Holding the event in Smithers BC, the traditional and unceded territory of the Wet'suwet'en people, provides an exceptional opportunity for the area without having to travel to a larger center to learn new skills. Attendees can find mentors and make connections in our community to help grow their businesses, start-ups or careers.
Fostering growth through difficult times. In the last three years, women have proven resilient in the face of change, hardship and uncertainty. Now we need to support women looking forward and help them grow into their potential. No matter the starting point, SHE will leave conferring strength, wisdom and clarity of purpose.