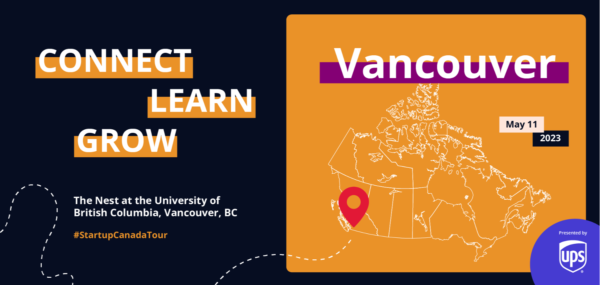 5 Cities. Coast to Coast. Startup Canada Tour connects early-stage entrepreneurs across Canada with ecosystem support organizations and industry experts to help build out their networks, learn practical skills, and drive their businesses forward.
They're headed to Vancouver on May 11 for stop 3 of the Startup Canada Tour! Meet with investors, local and national support organizations, and gain resources to build your business.
What to expect
Build a network: At each Startup Canada Tour stop you'll have the opportunity to connect with business mentors and entrepreneur support organizations from across the country. Meet with experts in our Ask the Expert Lounge and connect with other entrepreneurs to grow your business network!
Learn from industry experts: Throughout the day, you'll have access to a series of keynotes, panels, and workshops featuring leading industry experts. Attend insightful sessions on funding fundamentals to finding product-market fit.
Drive your business forward: Whether you're at the ideation stage or looking to expand your business, you'll leave Startup Canada Tour with the tools and resources to take your business to the next level!