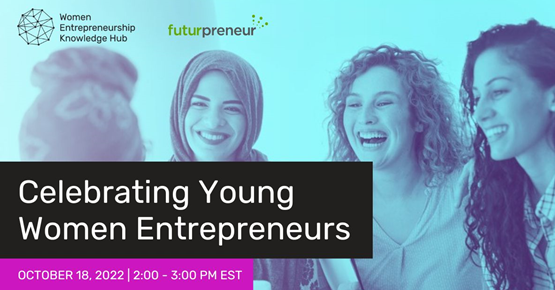 Celebrating Young Women Entrepreneurs
This small business week we're celebrating young women entrepreneurs who are finding success and breaking barriers.
Join WEKH and Futurpreneur to learn more about the resources available to young women entrepreneurs in Canada, and hear directly from women who have received support from Futurpreneur's programs.
This session will share information about Futurpreneur's programs including:
Startup Program: a core offering for young entrepreneurs ready to launch their business
Black Entrepreneur Startup Program: tailored support provided by a team with lived experience
Side Hustle Program: for those looking to launch or build a side business
This session will also have a fireside chat with women entrepreneurs who have benefitted from Futurpreneur programs to shine a light on their experiences.
Please register below to join us!
Event Details
Tuesday, October 18, 2022
2 – 3 p.m. EST / 11 – 12 p.m. PST / 1 – 2 p.m. CDT / 6 – 7  p.m. GMT
Virtual, via Zoom
Speakers
Sabine Soumare, Executive Director, Women Entrepreneurship Knowledge Hub (WEKH), Diversity Institute of the Toronto Metropolitan University
Nicola Jones-Crossley, Business Development Manager
Kennedy Horton, Business Development Manager
Dr. Melvia Agbeko Odemakpore, CEO, VIA Wellness Solutions
Rebecca Lecours, CEO, Éditions Maison Rose