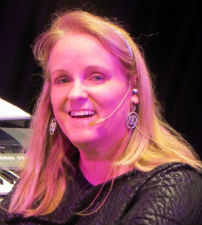 From a former commanding officer of a Canadian Forces unit to becoming an expert gemmologist, it has been an interesting journey for Heather Davis, owner of Stellar Gem Services (SGS) in Kelowna. Building on her original focus of goldsmithing and jewellery repair services including ring resizing, ring prong retipping, pearl restringing, and watch battery replacement, along with watch and clock repair services in the greater Kelowna area, her business has evolved and grown over time. By expanding into independent and impartial jewellery appraisal services, Heather has found her market niche. A keen learner, she obtained the necessary education and certifications to help her grow her business.
SGS provides independent, accurate, and impartial Jewellery Appraisals for clients – individuals, jewellery stores, insurance companies, estate attorneys – who require current and accurate identification and valuation of their fine personal, family, and heirloom jewellery. A unique part of her business is enabling clients to watch the process in person – creating trust and security in the service, process, and results.
Q. What services has Women's Enterprise Centre provided you and how have these services helped you?
A. WEC provided me a much-needed business expansion loan. It helped me obtain key scientific lab equipment necessary to stay on the cutting edge of our rapidly evolving business, and help take our jewellery and gemological identification, valuation, and appraisal services to the next level and beyond. WEC's Peer Mentor program has given me a valuable forum to share, network and learn from other women entrepreneurs, all seeking to overcome business challenges and grow in the process.
Q. What inspired you to take the leap and start your own business?
A. I decided to branch out on my own after working successfully in jewellery repair and sales positions with well-known local companies. I realized I could provide a better suite of services for local clients by having full control of the business and process. My military management background and training helped me create a focused business and marketing plan. I grew my business organically, via direct local face-to-face marketing, client referrals, and word of mouth.
Q. What's the biggest lesson you learned when starting your business?
A. As a business owner as well as the key technical principal, I am ultimately responsible for everything in the business – including client services, sales and marketing, operations, finances, etc. I have to make sure everything is done to the highest standards, and then integrated properly.
Q. What are your goals for the business?
A. My goal is to provide the greater Kelowna and extended Okanagan Valley areas with much needed accurate, impartial, and independent local jewellery appraisal and gem lab related services. My business is important because the marketplace is being increasingly overrun with technically sophisticated, often undisclosed treatments and synthetic replacements that negatively affect the value of jewellery.
Q. What is your greatest strength as an entrepreneur?
A. My greatest strength is my overall understanding of how to focus and integrate multiple tasks and workflows, contributing to successful project completions. It also matters to me that my clients are satisfied with the level of service provided, and are happy and willing to refer their family, friends, and associates.
Q. What personal lessons have you learned as an entrepreneur?
A. There are four
Focus on the tasks at hand while keeping the big picture in mind
Work effectively with diverse group of people
Delegate tasks to those more qualified, while maintaining overall quality control
Stay up to date with changing markets and technologies