< BACK TO RESOURCES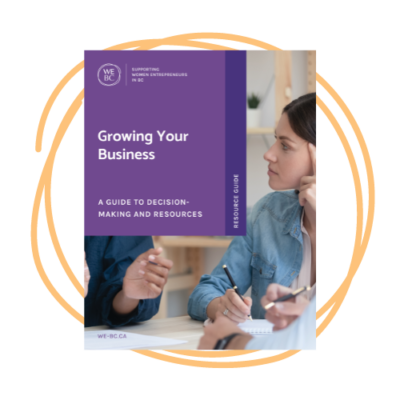 A guide to decision-making and resources
Increased sales or profits are the usual things that come to mind when one says business growth. However, business growth may also mean changing to maintain current sales or profits.
For example, you may need to grow new clients because a major, steady client has left. You may need to introduce new products or services or stop offering some current ones based on changes in market demands.
The Growing Your Business Resource Guide provides an overview of the important factors you should consider when growing your business, so you can decide where to strategically invest your time and money.
You'll work through a five-step process to identify your personal and business needs:
Step 1: Why do you want to grow your business?
Step 2: How can this be achieved?
Step 3: What does the business need in order to grow?
Step 4: What do you need to do, or learn, in order to make it happen?
Step 5: What are the next steps for you and your business?
Throughout the guide you will explore strategies to increase sales and profits, financing options, international trade and operational considerations. Included are resources to help you do more research, and you'll meet several women who are growing their business in BC.
If you are ready to explore growth strategies for your business, you may also connect with a Business Advisor for complimentary support for your business. Learn more >>>
---
Check out the other books in our free Resource Guide series