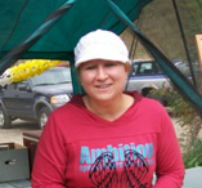 They sell more than just smoothies. Penny Kuenle's business "Got Juiced" also promotes a healthy lifestyle. The focus is on whole fruit drinks, using local products as much as possible. Got Juiced is a Smoothie shop using vegan protein and other healthy boosters like hemp hearts and chia seeds. In an effort to encourage sustainability, the business offers their compost to any farmer willing to take it.
Started in a tent at the Cottonwood Market in Nelson, BC in 2010, Got Juiced opened a retail location in Trail a year later and now a second location is opening in Rossland.
Q. What inspired you to take the leap and start your own business?
A. On my sister's advice, I tried some Booster juice when I was sick. While talking to her, we realized that there was no such juice outlet in Nelson. Together with my husband, we created three smoothies and researched the market. One year later, we opened our first shop in Trail and later expanded to a bigger location and added a frozen yogurt section. We are now opening our second location in Rossland.
Q. What's the biggest lesson you learned when starting your business?
A. I have realized that a business will always have challenges. Embrace the impossible and you will grow as a human being.
Q. What are your goals for the business?
A. Our goal is to put Got Juiced in all the small towns of the Kootenays. We plan to franchise.
Q. What is your greatest strength as an entrepreneur?
A. I spent 8 years in the Military and they taught me to never give up. I have learned to conquer my fears of adversity. This opportunity to build a little business into a chain is very exciting and rewarding.
Q. What personal lessons have you learned as an entrepreneur?
A. I enjoy being an entrepreneur. I also love that my business benefits communities not just by creating jobs but in educating them on a healthy way of eating.
Q. How has Women's Enterprise Centre helped you?
A. Women's Enterprise gave me the biggest pat on the back when they looked at my business plan and believed in me. Even when we put together a business plan there was still a bit of fear of failure. I got repeated e-mails from a Business Advisor at the Women's Enterprise asking me how I was doing. It is nice that an organization doesn't just lend you money, they come on side to give you support and resources as well. I felt that they really cared and were excited to see me succeed. It gave me hope to keep pushing forward even when I started to doubt myself. Thank you for being there for me.