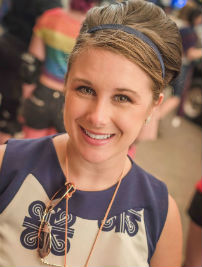 "Choose a job you love, and you will never have to work a day in your life." – Confucius
Rachel Paish did just that by turning her love for dancing into a successful business, Passion and Performance dance studio. She offers classes for all dance backgrounds, bodies, abilities and budgets.
She also does costume designing, corporate entertainment, guest workshops on performing arts and has a department specializing in wedding dance lessons and bachelorette parties. Rachel also plans to operate a store and costume consignment program for performers in her new studio.
Q. What services has Women's Enterprise Centre provided you and how have these services helped you?
A. WEC has provided my business with growth funds which has helped us tremendously. We are moving from a 900 square foot space to a 2,800 square foot space. This loan will allow us to get special dance flooring, plenty of mirrors and new sound equipment for the new facility. This help will immensely benefit our students and community.
Q. What inspired you to take the leap and start your own business?
A. While doing my market research, I found that there was no place for people of my age to comfortably do what we're passionate about and be able to afford it. This motivated me to launch my business.
Q. What's the biggest lesson you learned when starting your business?
A. Data is everything!! You have no way to manage your success if you don't know where you've been. Make a goal, track how close you are to your goal and if you don't make that goal you need to sit down and find out why. Aimlessly trying to make money for your business without data will get you nowhere. Also, get a good team behind you. As a small business owner it is important to pay for quality work – you can't be a specialist at everything.
Q. What are your goals for the business?
A. My dream for Passion and Performance is to expand it into different streams of performing arts, such as theatre, and to start opening new locations. For every city that has 10 dance studios for children, I want one Passion and Performance to be present with open arms to welcome those dancers as adults.
Q. What is your greatest strength as an entrepreneur?
A. My drive and passion ! Without those two pieces I could probably be comfortable being an employee for another company – but I love my company and I have a vision for it. Additionally, I am creative but I also love data and management. I'm fortunate to be a very organized artistic soul.
Q. What personal lessons have you learned as an entrepreneur?
A. I have learned that work/life balance is vital to being a long term entrepreneur! When you're passionate about what you do, it is easy to become engrossed in it. It is important to take a step back and do things for yourself. I've also learned that professional development is not just important for your business but for your personal growth too. Meet other people in your field and get inspired!
Q. What were your major successes? At what point did you know you had achieved success?
A. Right at the beginning of P&P, I was on the cover of Monday Magazine and that same year was runner up for Young Entrepreneur of the Year for the Chamber of Commerce. That being said – my business was still struggling to survive. I started to feel truly successful when I started watching our company grow consistently every year. Our shows have started to sell out. One of the greatest successes of my company is the growth of our dance community. People support each other, they cheer for each other and it is what we need more of in this world. It has been an incredible journey so far.