Lav and Kush in Vancouver features clothing designed by Angela Saxena, a busy Vancouver mom-on-the-go. She wanted a clothing line for fellow women and mothers to wear at home, to the office, and everywhere in between. Her clothing is as comfy as PJs and helps working moms and professional women feel good and look good effortlessly.
Angela brings joy to women and kids through the comfort and style of her clothing line. She carefully designs her styles using sustainable materials (including bamboo and Tencel). Her customers love how soft and versatile they are to transition from work to play.
She believes it's so important to choose a business you are passionate about. Her passion got her through many business struggles, including several significant challenges stemming from running a retail business during the COVID-19 pandemic. Angela has come through stronger and, with the support of her WeBC mentor in the One-to-One WeBC Mentoring Program, has learned how to refocus her energy, boost her determination and organization skills, and set the right goals to set her business up for success.
Mentee Q&A
Q. When did you start your business, and why?
We originally operated the business from 2007-2012. I took a break when the economy tanked and started our little family. In 2017 I started it back up again with an easy-dressing lounge focus. As a newish mom, I saw the need for super comfy clothing that can work from morning to night and have an actual style focus but feel like PJs.
Q. What struggles or barriers have you encountered as you've grown your business?
Lots! Differentiating from competitors, cash flow management, lower margins as producing in Canada is costly, retail partners closing due to Covid, losing employees, higher cost of goods, and the cost of customer acquisition, just to name a few. It's SO important to be passionate about what you are building and really believe in your mission because, at times, it's all you have!
Q. What inspired you to join the mentoring program?
I've known about WeBC for years now, and know what a great organization it is!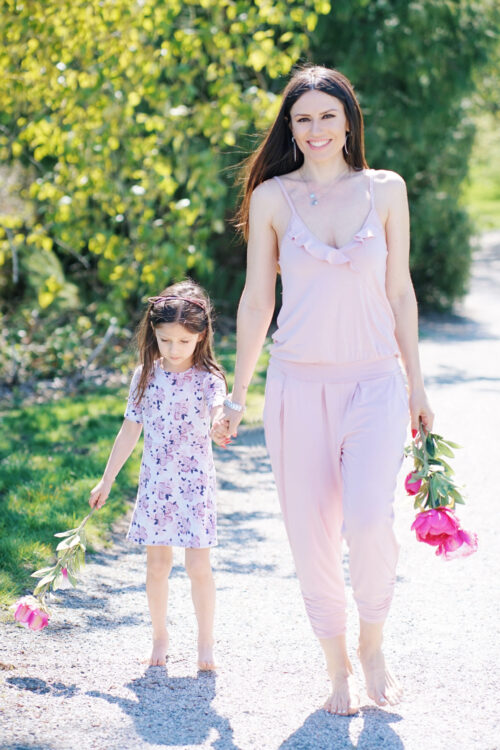 Q. What personal growth have you experienced as an entrepreneur?
Learning to focus, be determined, and how important it is to be organized! Also teaching our kids to Goal set, and stay focused!
Q. What are the biggest lessons you learned from your mentor?
Just to stay focused on your numbers. Learn your messaging and how to target your market. I also learned to always prepare for meetings with my mentor, to stay organized, and really understand my numbers.
Q. What are your major successes since participating in the mentoring program?
We recently acquired new office space, hired sales reps, and obtained more retail stores. We have made huge strides forward since joining the program, but we still have a long way to go. Our next goal is to focus more on online sales because our overhead right now is very scary!
Q. Where do you see your business in five years?
Hopefully have hired a team of employees so I have the right people doing the right jobs, becoming a lot more profitable, being able to expand our collections, and being able to sell in other countries. Really creating more impact in others' lives!
---
Where to Find Lav and Kush
Instagram – @LavAndKush
Facebook – Lav And Kush
Youtube – Lav And Kush
Twitter – @LavAndKush
Pinterest – Lav And Kush