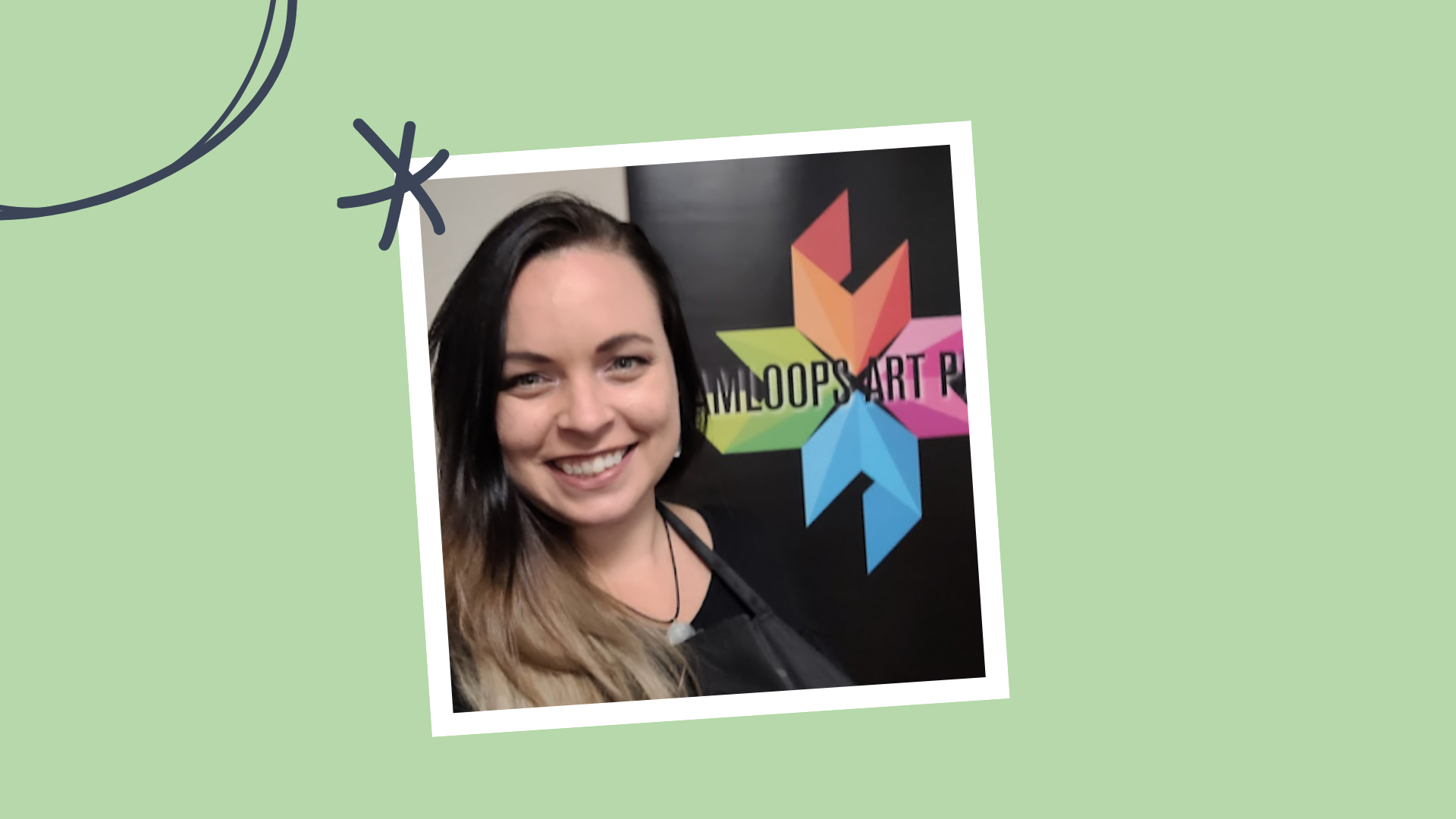 Stepping into Kamloops Art Party feels a little bit like stepping through the wardrobe into Narnia and finding yourself in a world of endless creative possibilities. Carly Schmidt launched Kamloops Art Party in 2017 as a hub for artistic expression that allows anyone to walk in, pick a medium and start creating. "It's a complete artist's playground that just keeps growing."
Carly, who was a full-time artist before starting her business, is strongly devoted to providing inclusive opportunities for her community to express themselves artistically.
"I was painting portraits and selling them in Canada and internationally when I realized I needed to get out of my basement," Carly explains. "Around 2017, I got involved in the art community through 'sip-and-paint' sessions that I would host at local pubs and restaurants."
Carly built her team and opened her own studio—they hosted their grand opening two weeks before the pandemic hit. "We kept the business alive and shifted to Zoom classes and art kits that we could ship to our community members," she recalls.
As other studios closed, Carly purchased their inventory, hired their staff and kept the art community alive.
Over the past two years, Carly has grown her business from a 700 sq ft space to 3,500 sq ft and the largest collection of ceramic molds in Canada. She now has a staff of 10, plus multiple contractors, who provide a space for art enthusiasts, young and old, to play in countless art forms. This spirit earned her the Kamloops Community Builder of the Year Award in 2022.
Business Loans for Women Business Owners in BC
Through WeBC's funding program, Carly was equipped to set-up an art space for her community while developing her growth plan. WeBC's unique funding program differs from traditional financial institutions, allowing broader eligibility criteria to meet the needs of women entrepreneurs. Alongside business loans of up to $150k, women are also supported with complimentary services aimed at empowering women to develop and strengthen as entrepreneurs.
Carly has participated in growth, export and leadership training and worked with a WeBC Business Advisor.
"It's having somebody who has my back if something goes wrong, or you need advice. I probably could have made it here on my own, but my company would not be as good. It's very, very essential as far as our journey has gone."
Q&A
Q: What role has your community played in your business?
A: An incredible amount. My company has grown so organically through the support of the community, with local events and word of mouth being the biggest two factors. Once people experience us, they keep coming back because they have a great time.
We also have a partnership with a local minor league baseball team. We run a family zone where kids can play, get their faces painted, and more, while the parents can hang around and watch the game. It's really fun engaging with our local community through the different events we host.
Q: What's the biggest lesson you have learned on your entrepreneurial journey?
A: One lesson that stands out to me is: ask for money before you need it. Another thing is to be prepared for the entrepreneurial journey and what that commitment means. You have to put your company before everything else, and running a business requires a lot of time and energy if you want a chance at being successful. You really have to give it your all!
Q: How did the WeBC loan program support you in starting your business?
A: Getting involved with WeBC was such an essential step for my company, as the work prepared me for the next few years. The WeBC loan allowed me to set up my space comfortably, but that wasn't even the biggest part of it.
The most valuable aspect of the experience with WeBC were the workshops I took and the outstanding support team. Having people who had my back when I encountered roadblocks was so valuable. They were there for me the entire time and my company wouldn't be the same without them.
Q: What does the future of your business look like?
A: I think every community needs art and it really comes alive once you share it with others. As the populations keep growing, people have less and less space available to express themselves through art.
In the coming years, I want to continue growing and open up another location in Kamloops to provide access to artistic expression for more members of our community. Additionally, I'm starting a manufacturing facility for ceramics to provide our community with a sustainable, Canadian option to buy ceramics and create more jobs for artisans .
Q: What would you say to other women entrepreneurs?
A: If you have a business idea that you're passionate about and you're ready to commit your time and energy to it, do it! Jump in with two feet. Reach out to your community when you need help, find a mentor, take classes and just start.
If you know that this is what you want to do, don't wait until you have figured out the perfect plan, because that will never happen. Take the first step and learn what you need to along the way.
Where to find Kamloops Art Party