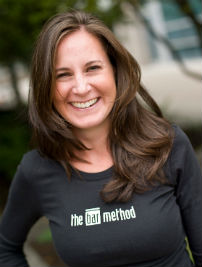 Carolyn Williams has always enjoyed staying fit. When she was living in California she discovered "The Bar Method"and fell in love with the exercise program. She missed it after her move to Vancouver and decided to bring the workout program to the city. She opened her first "The Bar Method" studio in October, 2010. She recently opened a second studio in Vancouver.
"The Bar Method" offers an exercise class which consistently challenges all major muscle groups, in addition to the core, creating a lean, toned and flexible body. It combines ballet, pilates and yoga. "The Bar Method" helps to create strong, flexible muscles in a safe and supportive environment. Her studio is not just a place to exercise but is a community of people coming together to challenge themselves both mentally and physically.
Q. What inspired you to take the leap and start your own business?
A. I had started doing the Bar Method in California in 2007 and loved the exercise. When I moved to Vancouver in 2008, I desperately missed the work-out. I played with the idea of starting a studio. With the support of my husband, I decided it was time to follow my dream of starting my own business and do something that I loved. I have always enjoyed helping people live a healthier life. It motivated me to open "The Bar Method" in Vancouver.
Q. What's the biggest lesson you learned when starting your business?
A. React quickly! Somebody once told me that there are limited amounts of tomorrows. If you know you need to make a change-don't wait.
Q. What are your goals for the business?
A. We have expanded to two studios now. We have incredible clients and teachers. My goal is to continue to grow the 2 locations as well as add another 2 studios in and around Vancouver.
Q. What is your greatest strength as an entrepreneur?
A. My greatest strength is my work ethic. I never compromise on it. My father was an entrepreneur and my parents have instilled very strong work values in me. I am willing to take on any task, any challenge to get things done and keep the business growing.
Q. What personal lessons have you learned as an entrepreneur?
A. Trust your instinct! I have always followed my instinct. As an entrepreneur I know what is best for my business. I believe in myself.