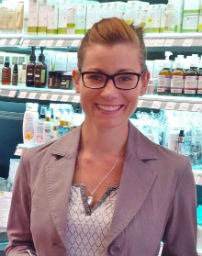 It was Chantel Delaney's dream to have her own business. After many years of working with other businesses, she knew she had the experience, energy, and motivation to be an entrepreneur. When the opportunity came up, she took the plunge and bought Sprout Grocery in 2015. With a strategy of making the business more diverse and growth oriented, she rebranded as Sprout Grocery & Market.
Sprout Grocery & Market offers the East Kootenays a wide array of local and organic foods, natural body care, biodegradable household cleaners, supplements, bulk foods, locally handcrafted gifts and more. The business also caters to people with dietary restrictions and other health complications and is well known for in-depth industry knowledge and expertise in herbal medicine and holistic nutrition.
Q. What services has Women's Enterprise Centre provided you and how have these services helped you?
A. Women's Enterprise Centre gave me an opportunity to realize a dream that I had nurtured for a long time. When WEC informed me that my loan was in the final stages of approval, I definitely let out a whoop, shed a happy tear and hugged my family tight. WEC's advice, support and belief in my business viability has made me confident that I have what it takes to be a successful female entrepreneur in my community.
Q. What inspired you to take the leap and start your own business?
A. I gained valuable insights into my industry after working successfully in this field for a number of years. I helped others run successful businesses. My work gave me the confidence to take the leap. My experience helped me tap into new opportunities in retail.
Q. What's the biggest lesson you learned when starting your business?
A. I have learned to be patient and not allow myself to feel discouraged by bumps in the road. An entrepreneur's life is full of challenges. I had to get creative sometimes to solve problems and I needed to let go of the things that were not going to work.
Q. What are your goals for the business?
A. My goals for this business are many and diverse!
a. I want Sprout Grocery & Market to be a pillar in the community by supporting local events and charities. I want to create new jobs for people in my community.
b. I want to create a strong brand, open stores in other communities and create a thriving business that I feel proud of and that I look forward to going to.
c. I want my business to generate good profit so that I can continually improve my family's quality of life.
Q. What is your greatest strength as an entrepreneur?
A. My greatest strength is definitely my industry experience. I am a Certified Herbal Practitioner and have been living and breathing it for nearly 12 years. I've trained national sales teams on products and traveled to Europe to visit farms and gardens for leading natural manufacturers. I've written blogs, led lectures and launched new brands in Canada. I've worked behind the scenes alongside industry giants like Whole Foods and have helped many small businesses get off the ground.
Q. What personal lessons have you learned as an entrepreneur?
A. The biggest personal lesson I have learned (so far) is to separate my emotions from my business. It is easy to burn out as an entrepreneur if you take things too personally. I try to always remember that I'm doing this because it is what I love to do. I keep this quote handy because it reminds me of this very lesson. "Promise me you will not spend so much time treading water and trying to keep your head above the waves that you forget, truly forget how much you have always loved to swim." -Tyler Knott Gregson
Q. What has been your major success so far?
A. My most major success on this particular project has been getting the funding I wanted to create the kind of business I had been dreaming of all of these years. I look forward to a different answer in the coming years; paying off my loans, making a record profit, and starting another business.