Cindy Hamilton, Mom's Grilled Cheese Truck, Vancouver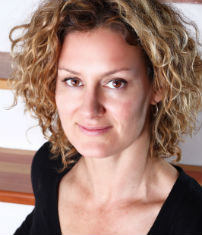 Cindy Hamilton was looking for a change after being in the movie catering business for twelve years. Her decision was timely as she found that street food was emerging as an exciting , new business opportunity in Vancouver in 2011. The City of Vancouver had decided to provide diverse culinary options on the city's streets. Cindy Hamilton was one of the vendors chosen for a permit to operate a street food truck.
Her business Mom's Grilled Cheese Truck is located at Howe and Georgia, on the North East corner of the Vancouver Art Gallery in Vancouver, BC. Her food truck provides freshly made soups, chili and gourmet grilled cheese sandwiches to tourists and the downtown work force.
Q. What inspired you to take the leap and start your own business?
A. I had a child a year and a half ago and couldn't go back to the long film hours. I needed to come up with a solution, where I could do what I loved to do (feed people) and still have time to spend with my daughter. I saw street food as a growing business in Vancouver and it would also give me the freedom to work the hours that I wanted to work.
Q. What's the biggest lesson you learned when starting your business?
A. I realized that it is very important to keep track of financing. It is important to make sure you have enough money in the bank to allow for unexpected expenses as they always show up. I also realized the importance of getting quotes in writing from different services providers regarding cost and time. It saves a lot of time and energy.
Q. What are your goals for the business?
A. I'd like to see a second truck on the road within the next two years (Pop's BBQ) and even a storefront location for Mom's. I also see a great need for more commercial kitchen space in Vancouver. It was very difficult to find the one I have, and with 19 new food trucks on the road next year there will be a market for it. I see a future in it.
Q. What is your greatest strength as an entrepreneur?
A. As an entrepreneur, I have confidence in myself and in what I am doing. I believe in, "Leap and the net shall appear."
Q. What personal lessons have you learned as an entrepreneur?
A. I have learned that it is important to hire smart people. You must rely on yourself but you can't do everything on your own. It is important to hire others to take care of certain aspects of your business, especially the ones that you know you are not proficient in. Choose wisely. No one will care as much about your business as you will.