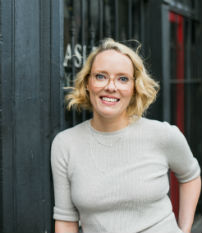 Dr. Lynn Klassen is the founder of Tandem Clinic, a multi-disciplinary integrated clinic providing comprehensive healthcare to clients on the Lower Mainland. The clinic has a team of Naturopathic Doctors, Registered Massage Therapists, Acupuncturists, and Medical Doctors. Located in Olympic Village, the clinic offers general family medicine, women's health services (fertility, pregnancy, menopause), pediatrics, sports medicine, massage therapy, and intravenous (IV) therapy. The clinic has lab services on site as well.
Q. What services has Women's Enterprise Centre provided you and how have these services helped you?
A. WEC provided me with the Start-Up funds to get my business off the ground. I was not confident of my business skills as I am new to business ownership. WEC believed in me and the team of women business advisors at WEC were extremely helpful. Now I strive to give back to the Women's Entrepreneurial community as best as I can.
Q. What inspired you to take the leap and start your own business?
A. I always wanted to create change in the healthcare industry. I am inspired by the tech industry. Launching my own business allowed me to apply my tech knowledge to the healthcare industry.
Q. What's the biggest lesson you learned when starting your business?
A. I learned that I need to have a great team and believe in them. It is important to rely on your team in order to have a successful business.
Q. What are your goals for the business?
A. I want the business to be a destination for the local community to receive trustworthy and forward thinking healthcare. I am also a big believer in educating the next generation of health care providers. I plan to create positions for Interns – where students can work in the clinic under the supervision of practising Naturopathic Doctors, RMT's, and MD's.
Q. What is your greatest strength as an entrepreneur?
A. I'm great at playing the long-game. I work everyday to build relationships with every supplier, vendor and of course every patient. I know that my hard work today will continue to pay off in the future.
Q. What personal lessons have you learned as an entrepreneur?
A. I've learned that I need to let go of my idea of perfection. Nothing will ever work as per the plan – and that's OK. I've got to be proud of things exactly as they are.