Creative Industries Cohort of the Trade Accelerator Program (TAP)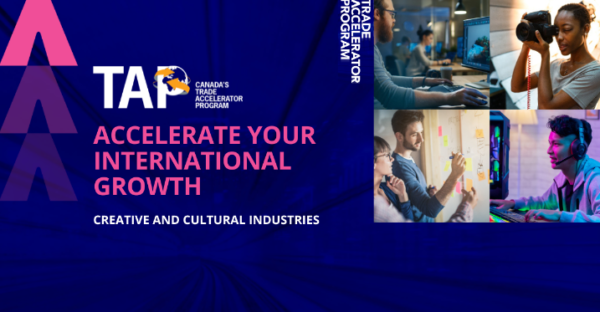 WeBC is proud to be a Community Partner of this program!
TAP is designed to help SMEs TAP into their full export potential. It has a proven track record helping participants get results.
With new trade agreements, a competitive Canadian dollar, and new business opportunities, now is the ideal time to extend your company's reach through international expansion of goods and services.
Since 2017, World Trade Centre Vancouver has successfully delivered 27 TAP cohorts in B.C.
Just six months after graduating the program:
On average, export revenue increased by 23%
Participants forecast their export sales to grow 47% over the next 5 years
By enrolling in TAP you can:
Navigate complexities of the global trade ecosystem
Leverage Canada's deep trade and investment resources
Access tailored, face-to-face coaching and advice
Learn about international best practices
Accelerate export readiness
Develop and implement a new market entry plan
Expand your global trade footprint and increase revenue
---
Four Groups of Creative Industries:
Heritage: Traditional Cultural Expressions, ex. art gallery for Indigenous arts or artisanal jewelry
Arts: Visual Arts, Performing Arts, ex. Cirque du Soleil
Media: Motion Picture, Video and Sound Recording, Broadcasting, Print and Publishing, ex. film and television production companies
Functional Creations: Design, New Media (Software, Video Games, AR, and VR) and Creative Services (R&D, Architecture, Advertising, Fashion Design)
*Bursary available for qualified companies.
Registration:  8:30 a.m. – 9:00 a.m.
Workshop Days:  9:00 a.m. – 4:30 p.m.
Mentorship Days:  8:30 a.m. – 12:30 p.m.
This program requires you to attend all five sessions.
Workshop Days – in person
Oct 04
Oct 05
Oct 06
Mentorship Days – virtual
Nov 02
Nov 03
Application Deadline: 20 September 2022