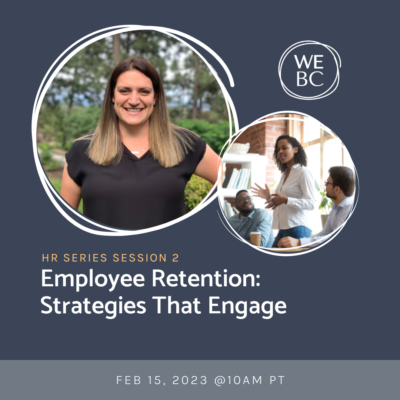 This is the second session in the Build Your HR Strategy Toolkit: 3-Part Series.
Once you've compiled your dream team, the next step is making sure they stay.
Fortunately for small business owners, salary is only one part of the equation. Studies show that engaged employees are 59% less likely to seek out a new job in the next year, and there are many practices you can implement to keep your employees engaged.
In this dynamic and engaging session you'll learn:
Simple communication techniques that can unite your team
Ideas to create a retention plan that will keep employees motivated and engaged so they want to stay
The Facilitator
Grace MacCoubrey
In addition to many years of Human Resources Experience in Generalist roles, Grace has extensive experience in the areas of recruitment and retention and is passionate about connecting the right people to the right opportunities. She is a member of the Human Resources Management Association and is currently working towards obtaining her CPHR designation.
Grace has obtained her Business Management Diploma and Bachelor of Business Administration Degree in Human Resources Management through Kwantlen Polytechnic University. She relocated to the Okanagan to enjoy the amazing outdoor lifestyle with her family and horse.
Grace has widespread experience working in very fast paced environments. She is diligent in ensuring full confidentiality in all situations and has the demonstrated ability to earn trust and build strong professional relationships. After working for several years in a generalist position, she has developed the ability to coach, guide and assist with many of the foundational HR programs.
When working with Grace you can expect a professional, calm, friendly approach. Her high attention to detail and strong communication skills will ensure that we recruit top talent for your organization and onboard exceptional people that will help your business thrive.