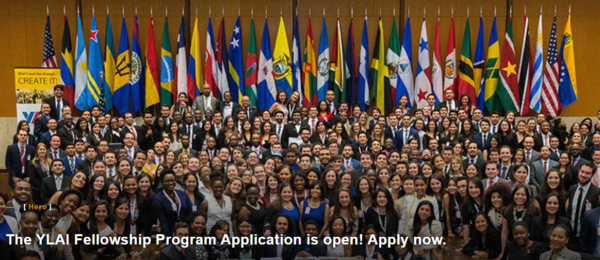 Since its launch in 2015, the U.S. Department of State's Young Leaders of the Americas Initiative (YLAI) Fellowship Program empowers emerging entrepreneurs from the Western Hemisphere to enable the full economic potential of the region's citizens. YLAI promotes U.S. business models, increases trade, encourages job creation, and builds lasting and sustainable networks of young entrepreneurs and business and social leaders across Latin America, the Caribbean, Canada, and the United States.
The application process for the next Young Leaders of the Americas (YLAI) Fellowship Program is now open and the deadline is February 15, 2023 at 11:59 pm ET. Click here  to apply. Please review the information below for details to apply.
YLAI empowers entrepreneurs to strengthen their capacity to launch and advance their entrepreneurial ideas and effectively contribute to social and economic development in their communities. Since the initiative's launch in 2015, more than 1,000 YLAI Fellows from Latin America, the Caribbean, and Canada have expanded their leadership and entrepreneurial experience through fellowships at businesses and organizations across the United States. Through the YLAI Entrepreneurial Leadership Curriculum and individualized professional placements, YLAI Fellows have accelerated their commercial and social ventures' success and developed specific action plans to implement upon return to their home countries. YLAI Fellows built networks, linkages, and lasting partnerships to attract investments and support for their entrepreneurial ventures. Program components have included:
Four-week Professional Placement: In cities across the United States, YLAI Fellows gain valuable professional development skills and experience at U.S. entrepreneurial organizations from the Fellow's business sector.  Fellows will collaborate with their placement host on their Entrepreneurial Leadership Action Plan (E-LAP) which the Fellows will implement upon return to their home countries.
YLAI Entrepreneurial Leadership Curriculum: The YLAI Fellowship Program includes online and in-person coursework, developed by IREX and Arizona State University (ASU), that combines technical entrepreneurship training and leadership development. Using the E-LAP, Fellows will set and achieve their entrepreneurial leadership goals.
YLAI Welcome Workshop in the United States: The YLAI team will meet Fellows in Houston upon arrival for a four-day welcome meeting. This meeting will be to welcome Fellows to the US and give YLAI advisors and Fellows the chance to meet and go over logistics, discussion of community guidelines, and program policies.
YLAI Closing Forum in the United States: YLAI Fellows participate in the YLAI Closing Forum in Washington, D.C., as well as networking events with business and social entrepreneurial leaders, and U.S. government representatives.
Post-Fellowship Sustained Engagement: After successful completion of the Fellowship, YLAI Fellows continue their collaboration with U.S. partners and have access to ongoing professional development opportunities, mentorships, networking, and alumni activities. YLAI Fellows will have the chance to welcome a U.S. host to their country through the Outbound Exchange Program, sharing their expertise on the entrepreneurship climate in their country.
Please note that if safe travel is not possible at the time of the YLAI Fellowship, this program will be conducted virtually.