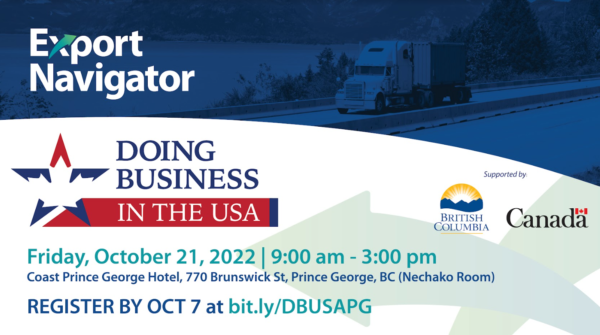 Brought to you by Export Navigator, Doing Business in the USA (DBUSA) is a seminar dedicated to helping Canadian business owners enter the American market. One of Kelowna's greatest trade assets is its proximity to the US border. However, crossing borders with commercial goods face ever-changing complexities and regulations. Gain access to a panel of carefully selected local immigration and cross-border lawyers, tax specialists, customs brokers, and logistics professionals.
Don't miss out on this interactive seminar if you want to ensure a foolproof US market access strategy.
Small to medium-sized business owners who attend this event will learn:
Cost-effective logistics and distribution channels
Responsibility for federal and state tax
US consumer purchasing behavior
Canadian export requirements and US import compliance
REGISTER NOW: http://bit.ly/DBUSAPG
Please note that the registration deadline is October 7, 2022 and lunch will be provided during the seminar.