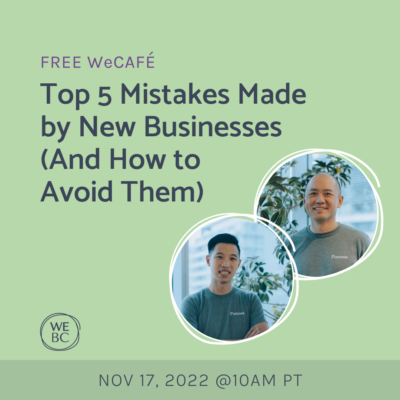 Starting a Business is a very exciting time in your life. It's also filled with a million-and-one-choices. What do I do first?
It's true that each business is unique; however, there are some common elements of business planning that many entrepreneurs tend to neglect. Understanding these basics is your ticket to creating a business that runs smoothly, year after year.
Join us for an informative hour with our friends at Purpose CPA to decide what should go at the top of your to-do list and gain a better understanding of how important it is to start your business the right way. In this session, you will:
Understand the value of having a business plan
Discover what to consider when choosing a business structure
Gain a better understanding of monitoring cash flow
Learn how to make informed decisions regarding taxes
November 17 | 10-11am PT | Free Webinar
Open to everyone!
Sponsored by BC CPA. Delivered in partnership with Purpose CPA.
Facilitator: Cathy Burrell, Entrepreneur in Residence, WeBC
Panelists:
Chad Chang, Co-Founder, Purpose CPA
Matthew Wong, Co-Founder, Purpose CPA
If you're new to starting a business, we recommend you also join our Starting a Business Info Session, offered on Wednesdays at noon. These free sessions teach you how to write a business plan and how to make your business official.