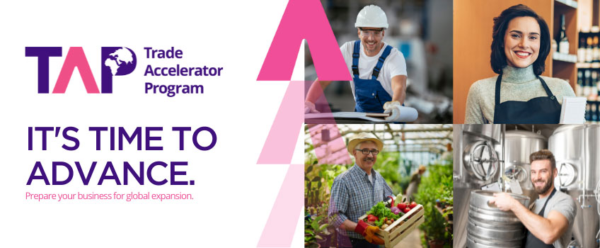 FULL BURSARIES AVAILABLE FOR WEBC LOAN CLIENTS!
We are pleased to invite you to participate in the B.C. Interior Cohort of the Trade Accelerator Program (TAP)!
New trade agreements and a competitive Canadian dollar make it an ideal time to extend your company's reach through the export of goods and services.
World Trade Centre Vancouver has successfully delivered Canada's Trade Accelerator Program (TAP), in B.C. since 2017.
The Trade Accelerator Program is designed to help SMEs TAP into their full export potential. It has a proven track record helping participants get results.
Just six months after graduating the program:
On average, export revenue increased by 23%
Participants forecast their export sales to grow 47% over the next 5 years
By enrolling in TAP Canada you can:
Navigate complexities of the global trade ecosystem
Leverage Canada's deep trade and investment resources
Access tailored, face-to-face coaching and advice
Learn about international best practices
Accelerate export readiness
Develop and implement a new market entry plan
Expand your global trade footprint and increase revenue