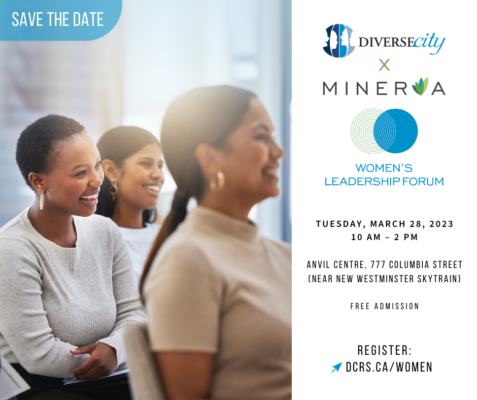 On March 28th, Minerva is partnering with DIVERSEcity Community Resources Society and hosting a Women's Leadership Forum to celebrate International Women's Day. This event aims to bring together women leaders, both emerging and established, immigrant women and Canadian-born, from different cultures and backgrounds.
Join this free event on Tuesday, March 28 from 10am – 2pm to:
Share strategies on overcoming barriers in the workplace, including for immigrant women
Redefine what leadership looks like
Advance equity for women of all races and backgrounds, including permanent residents
You won't want to miss out on this interesting opportunity, as it offers:
A DIVERSEtalks panel discussion with local women leaders and open Q & A period
Facilitated, interactive group activities for women to connect and learn from each other
Yoga, art, exhibition tables, networking and more!