Harness Your Voice: Top 5 Lessons from Taking The Stage Program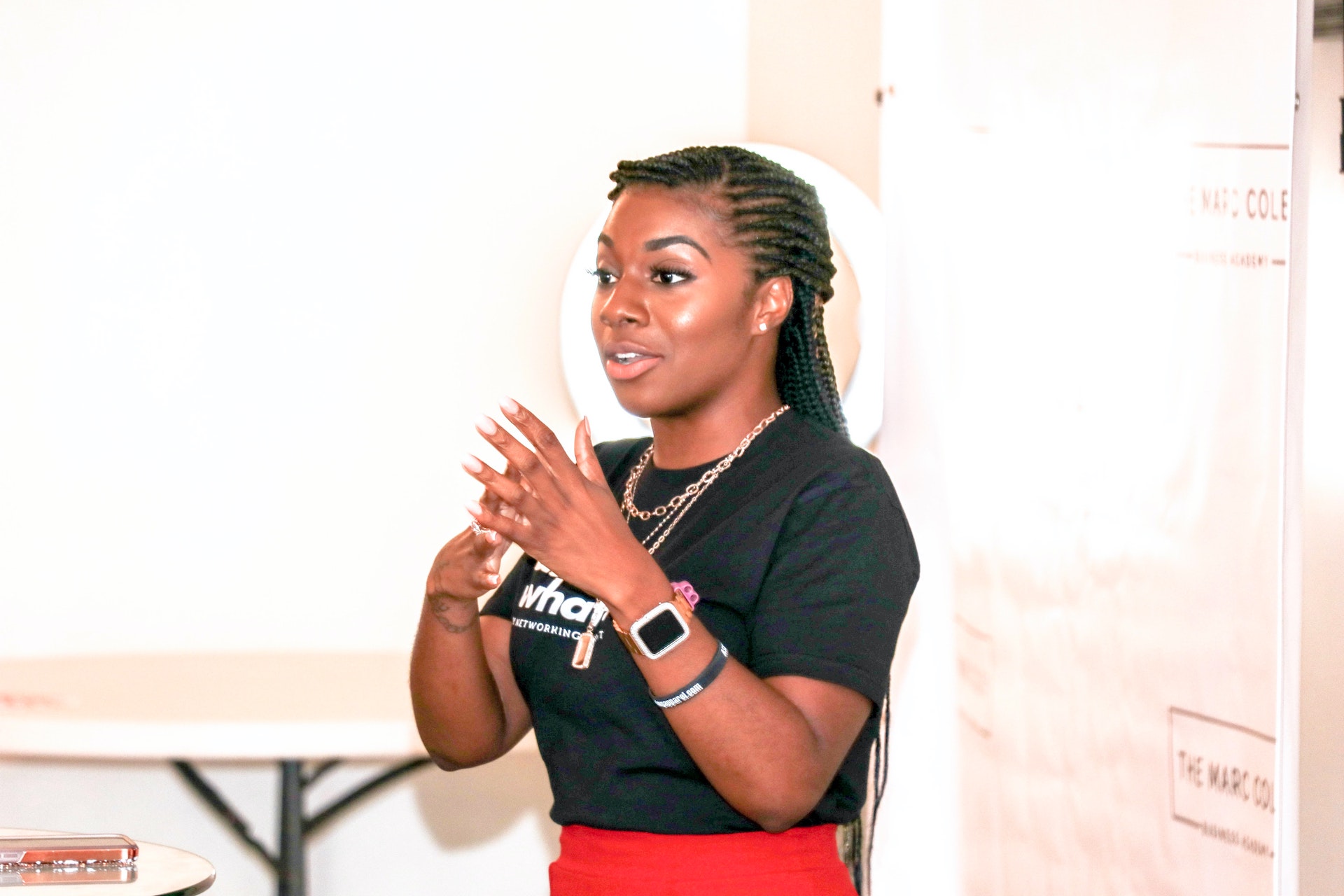 Developed by The Humphrey Group, Taking the Stage® has helped thousands of women enhance their skills in being strong, confident leaders by teaching them to speak with strength on any 'stage'. This fundamental skill enables women to speak up and better influence and inspire others, not only in their organization but in their personal lives as well.
This spring, I was honored to have the opportunity to Facilitate Taking the Stage® along with some other amazing women; Charlotte Ferreux, Christine Sommers, and Paris Gaudet. Together we each worked with a group of strong and inspiring women.
Through a series of weekly 2-hour sessions we worked together to build:
Leadership presence and identity
The script and language of leadership
Our voice of a leader and leaders presence
The sessions combined practical learning and discussion with extensive personal feedback, stories, and group discussion.
At the end of the sessions, we asked the group for their feedback through a final survey. We found the top five lessons participants learned were:
Lesson #1
You are a leader, regardless of your role or title.
Over 93.33% of participants would recommend this program to another entrepreneur
Women often believe that we need to be in a senior role, have the executive title or oversee others to be called a leader.
What we've learned is that we're all leaders in every conversation we have.
I feel so empowered to lead after Taking the Stage. For so long I thought all the self-doubts and fears I had about really stepping out and achieving success as a female entrepreneur were my own. Now I know what I go through is common amongst other women. This has been an incredible realization for me and has changed my perceptions completely
Owning my role as an entrepreneur who can make a difference for my clients and community. I can now pitch my business to clients in a confident and natural way.
Lesson #2
The Script and Language you use are key.
94.45% of respondents agreed that they will be able to use the new skills immediately.
Choosing strong words to communicate our messages and craft a leader's script can help us present our message in a succinct way.
Participants were able to gain confidence by using different language, tweaking their tone and managing the pace of their prose. They were all able to take this new knowledge and easily apply it to their day-to-day lives.

I have been taking opportunities to use stronger words (less mincing), assertive voice and negotiating more in daily interactions.
I would say the biggest empowering skill I took from the workshop was being mindful of how I communicate myself and my ideas. It's been a big help!
I'm removing "weakening" written and oral communication patterns, organizing my messages, believing that I am a leader, and I can act like so.
Lesson #3
Our voices Resonate, Inspire, Direct and Motivate.
94.44% of respondents are more confident in taking on new leadership roles within their business and/or community after having completed the Taking the Stage® training.
Whether we like our voice or not, we can learn to use it to resonate, inspire, direct, and motivate others in everyday conversations.
By taking the time to really make space for themselves, value their own opinions and trust in their knowledge and capabilities, participants discovered new-found confidence in their voices.
Taking the stage was an amazing opportunity to rediscover my voice, focus my communications, and step forward with intent as I launch my start up. I really love the confidence boost it has given me to walk forward knowing I am accomplishing great things.
I really strengthened my understanding of my self-worth and our agency's worth on the whole. This will be a game-changer for us when quoting on projects and communicating with clients when scope creep sets in.
Taking the Stage helped me to focus on my presence when speaking; posture, choice of strong words and using the full power of my voice.
Lesson #4
We bring our presence to every stage we're on
44.44% of respondents rated their confidence HIGH and 50% MEDIUM in taking on new leadership roles within their business and or community after having completed the Taking the Stage® training.
Whether we're presenting to a large audience, to a small group in person, or to 1 person on a zoom call, our overall presence helps us deliver our message.
Participants were surprised to learn just how much they are able to influence through effective communication; 50-90% of a presenter's communication is nonverbal and every aspect of our presence has an impact.
I feel like I'm a whole new business owner after taking the Stage. No more second-guessing, no more compromising, I am now stepping into a whole new realm as a leader! I highly recommend this course to anyone who wants to inspire with strength and influence with confidence
I feel way more empowered in my decision-making and leadership skills. I love how clear everything was presented and the Clifton Strengths was practically a life-changing realization. Love this piece.
Lesson #5
We're not alone; All of us are on a journey of leadership
Group Facilitation is key to shared discussion and connecting peers. 83.34% of respondents rated their Facilitator an 8/10 or better.
Connecting with other women in the community is key to developing our roles, communication and skills and confidence.
Seeing that they are not alone in their journey to change ingrained patterns and make positive choices towards leadership, participants attest to the value of Taking the Stage®
It was great to connect with like-minded women who are encountering the same issues and struggles that I do when it comes to "Taking the Stage" and being a leader.
I operate my business in a rural and remote area which can sometimes lack the resources that I need when I am ready to accelerate. The course not only provided me with invaluable tools and techniques to step into my leadership position but it also helped me connect with peers.
One of the biggest take-aways I took from it is that I am not alone. Pretty much everyone in that group shared the same sort of feelings, it was just nice to see other business owners and other young female professionals that felt the same way.
Survey results included in this post are from the "DF_TTS_EVALUATION_RESULTS.PDF." Details are available upon request by contacting WeBC.