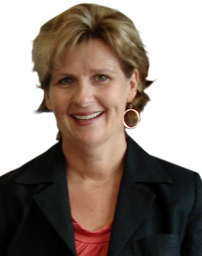 From a small laundry room office to a 5000 square foot warehouse, it has been quite a journey for Karen Murphy of Express Gift Baskets . She started her business in Kelowna in 1997 as a local gift service for companies buying corporate gifts. During her 16 years in business so far, her online sales have been the main catalyst in powering her business to international success. Currently 95% of the business revenue comes from internet sales.
Express Gifts Baskets specializes in the corporate market. Gift baskets are ordered online from a large selection of styles and prices. The baskets are then built and shipped from the company's warehouse. Express Gifts Baskets ships orders across Canada and worldwide, including, Australia, Asia, Europe and the USA. They also have .com site that uses an American affiliate to ship baskets for clients needing delivery in the USA.

Q. What services has Women's Enterprise Centre provided you and how have these services helped you?
A. Women's Enterprise Centre has been with me all the way. They not only helped me with a start up loan when I started my business, but also provided me with a loan in 2013 to increase my inventory. Due to the increase in sales, I needed a large amount of inventory in anticipation of Christmas. When I approached WEC for an inventory loan, they were there for me. We bought the stock we needed and doubled our Christmas sales over the previous year.
Q. What inspired you to take the leap and start your own business?
A. I enjoy the challenges and rewards of working for myself. It is the best reward. It has not only inspired me to launch my business but motivated me to succeed in my entrepreneurial journey.
Q. What's the biggest lesson you learned when starting your business?
A. Looking back over the last 16 years I can say I've been through many great experiences and some very challenging times. I have learned to adapt to market dynamics. In 2008, our sales had declined due to the economic downturn. Our website also became dated. So, we restructured in 2011 and reinvested in the business we knew best, baskets. We launched a new website and the sales started to turn around.
Q. What is your greatest strength as an entrepreneur?
A. I'm extremely goal oriented and enjoy the challenge of making decisions on my own. I love what I do. I wouldn't trade my experience for anything. No regrets!
Q. What personal lessons have you learned as an entrepreneur?
A. I have learned that taking on partnerships and expanding your business without proper planning can create conflict and stress. I have also learned the importance of work-life balance. I have more independence and freedom now that I have staff. I enjoy working fewer hours during the summer months, but work many hours when needed during the fall and winter.
Q. What are your goals for the business?
A. My goal for the business over the next few years is to increase our sales as we start to drop ship for other online gift basket companies. Eventually, I plan to sell the business, retire, travel and do volunteer work.