Kim Steinhausen, Techniks Hair Studio, North Vancouver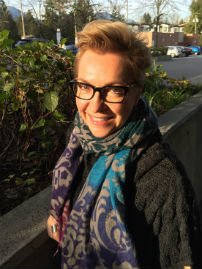 After working as a professional hairstylist for over 20 years, Kim Steinhausen was looking for the right time to launch her own hair studio. It was a dream come true when she opened the doors to her business, Techniks Hair Studio in North Vancouver in September, 2008. Techniks Hair Studio is now a full service Salon and Spa providing colouring, cutting, styling techniques, as well as spa services (i.e. facials, manicures, pedicures, waxing, make-up).
Q. What services has Women's Enterprise Centre provided you and how have these services helped you?
A. We were able to relocate, renovate and grow because of a loan from Women's Enterprise Centre. WEC was diligent and very helpful in dealing with our loan request and it has helped us in taking our business forward.
Q. What inspired you to take the leap and start your own business?
A. My role models have always been entrepreneurs. I also enjoy the challenges of being my own boss. This has motivated me greatly to strike out on my own.
Q.What's the biggest lesson you learned when starting your business?
A. Oh, there are many! But, I can pinpoint three important ones.
• It is important to manage time productively
• It is critical to stay organized
• It is important to set boundaries and maintain work/life balance.
I have also realized that you can't be a success alone. I am doing well because of the support of staff, friends and family, suppliers, Women's Enterprise Centre and BDC.
Q. What are your goals for the business?
A. I want to empower my staff and promote new talent. I also want to keep on building strong relationships with our clients and be able to give back to the community. My goal is to build a brand that cares for its clients and provides a great place to work.
Q.What is your greatest strength as an entrepreneur?
A. My work ethic. My parents instilled a very strong set of work values in me and I am willing to take on any challenges to get things done. I have always had a passion for beauty and making people feel and look great. I love what I do.
Q. What personal lessons have you learned as an entrepreneur?
A. I have learned that being an entrepreneur is a constant learning process. It is important to be open, flexible and adapt to changes. I am a dreamer. Being able to dream big is key because without that dream you are not able to reach your goals. I am so thankful for the support of people in my life who have helped me to pursue my goals.