Margaret (Youngsun) So, Sushi Time Express, Victoria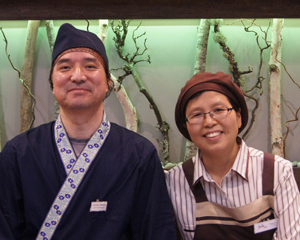 Starting a take-out restaurant came naturally to Margaret (Youngsun) So and her husband, Don, due to their previous experience in the food industry. Inspired by their desire to provide a healthy food option to customers in Victoria, they launched Sushi Time Express. It is a take-out restaurant located in the heart of downtown Victoria that provides fresh and healthy take-out food including sushi rolls, teriyaki dishes, fruit smoothies and tea.
Visit them online at sushi-time-express.com
Q. What services has Women's Enterprise Centre provided you and how have these services helped you?
A. Women's Enterprise Centre loaned us the funds to start our business. They also continue to offer professional business advice. Their help has been invaluable in our business growth.
Q. What inspired you to take the leap and start your own business?
A. My husband and I love Victoria. We wanted to contribute to the healthy lifestyle of the city's residents. Because of our previous experience in the food industry, we decided to open a take-out restaurant that offered food to clients that was both delicious and healthy!
Q. What's the biggest lesson you learned when starting your business?
A. We have learned to develop a customer-focused mindset. We continue to think about their needs and to provide excellent customer service.
Q. What is your greatest strength as an entrepreneur?
A. My positive mindset and the passion to serve people around us! We listen to our customers and try our best to offer them excellent food choices.
Q. What personal lessons have you learned as an entrepreneur?
A. I have learned to put myself in my customers' shoes and look at my business from my customers' perspective. It has been crucial in helping us serve our clients in Victoria and pursue excellence.
Q. What are your goals for the business?
A. We want to continue to become a business that is customer-focused and to offer food that is both healthy and enjoyable. We also want to enhance our community by getting to know our customers well.