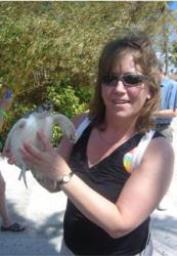 There is a business opportunity in every community in British Columbia. Central Signs and Services in Golden started small and steady, experienced early exponential growth and is still adding services and clients.
The company launched in 2008 and initially, owner Patricia Beam was mentored by her brother who had valuable industry experience in a large municipal centre. By 2010, Beam had experience under her belt and a plan to grow. Central Signs and Services obtained an expansion loan from the Women's Enterprise Centre to invest in a new wide format digital colour printer. The growth plan paid off: business quadrupled and Central Signs was positioned into new markets.
Central Signs and Services provides digital printing and signs of all types. Clients can have banners, billboards, lit sign wraps, lettering and decals created. Individuals and businesses can also have limited edition art prints and canvas photo/art printing produced for favourite images.
New additions to the service line-up include rack cards, brochures, letterhead and envelopes to cover most needs of small business. Beam would like to add a heat press to enable the company to do garments and cloth bags. Delivering each of these products will enable Central Signs to be a one stop shop for business in Golden.

Q: What inspired you to take the leap and start your own business?
A: We were looking for a way to generate a little extra income for our family. I saw how proud my brother was when he completed a sign for a customer. I wanted to experience the same feelings of pride as I drove around seeing all the different signs I had created around town.
Q: What's the biggest lesson you learned when starting your business?
A: I learned to never give up. There are a lot of bumps in the road to success and with hard work perseverance, persistence and dedication the bumps all smooth out. Take each bump as a lesson to help you succeed in business and as a reminder not to make that mistake again.
Q: What are your goals for the business?
A: My goals are to make our business even more successful by expanding our lines of printing to include promotional items like pens golf balls and cups.
Q: What is your greatest strength as an entrepreneur?
A: I am driven to succeed and am not scared of hard work. I enjoy what I do and take great pleasure in seeing how happy my finished products make the customers. It makes me feel good.
Q: What personal lessons have you learned as an entrepreneur?
A: It takes much more time than you get paid for to run a successful business and don't expect to get rich fast. No matter how hard you try you can't make everyone happy all the time. I also learned that you need to take time out for your family no matter what.