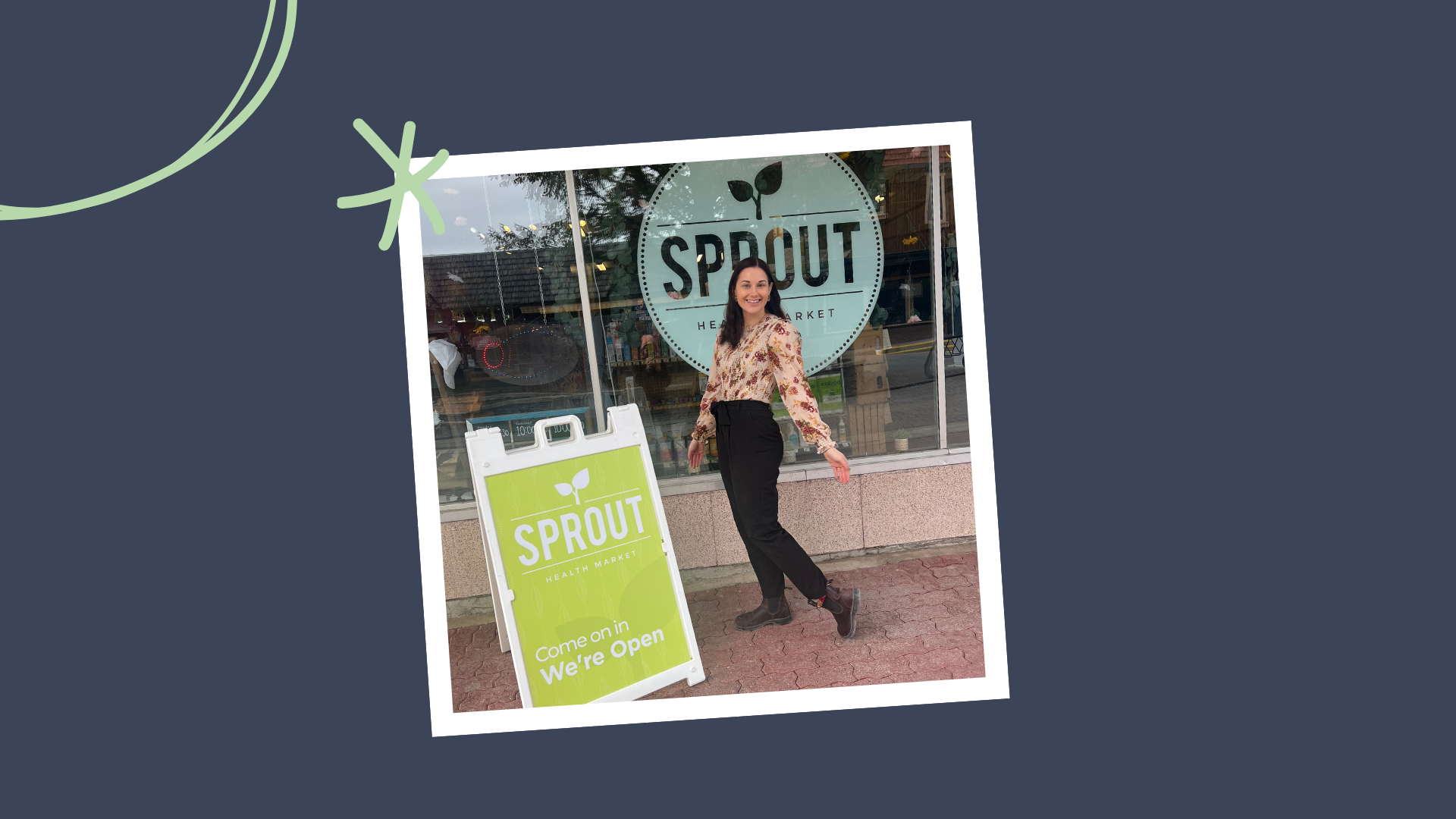 Finding a one-stop shop with a wide range of high-quality, sustainable products that consider both your health and the planet's health can be challenging. To make it easier, Sabrina Sommer provides a curated selection of ethically sourced products through Sprout Health Market. Located in Kimberley, BC, the store offers natural beauty and personal care products, premium supplements, wellness products, and more.
Sabrina learned about the preferences of Kimberley's locals and visitors while working in a different health market as well as a local ski resort after graduating high school. Her day-to-day interactions with customers helped her develop a strong sense of what people needed for health and wellness products.
"I didn't set out to become a business owner but I was always passionate about health and wellness," Sabrina says. "When I was 17, just after I had finished high school, I became a manager at one of our local health markets. I loved helping people and I was fascinated with all things nutrition and herbalism. After three years, I left that job to travel and learn something new; that's when I became a Holistic Nutritionist."
Sabrina's journey with Sprout Health Market began as an employee before she was offered the opportunity to take ownership of the store.
"I had the opportunity to work under the previous owner for about a year and learn the business," Sabrina says. "One day, she came into work and told me that she was going to put the business up for sale. I made her an offer and took my first step on the path of becoming an entrepreneur."
Business Loans for Women Business Owners in BC
Sabrina found out about WeBC's business loan program from the previous owner of Sprout Health Market. WeBC's unique funding program differs from traditional financial institutions, allowing broader eligibility criteria to meet the needs of women entrepreneurs. As a young business owner, Sabrina qualified for the youth business loan, an initiative of WeBC and Futurpreneur Canada. She completed her funding puzzle with Community Futures to purchase the business. Now, she works with a WeBC Business Advisor to support her business journey.
"It was a challenge learning all the financial stuff of owning a business, like how to read my books and really understand what my sales are. WeBC has a lot of really great resources and workbooks for that so I have a pretty good handle on that now," says Sabrina. "They also have advisors that you can reach out to. I feel like I have support, and if anything happened that I didn't know how to handle I could ask them and they could help me."
Q&A
Q: What role has your community played in the success of your business?
A: I feel really fortunate that I live in Kimberley and own a business here. I have a lot of repeat customers that I've gotten to know personally over the years. All our regulars are really supportive and sweet.
Having people come into your small business and compliment how you run it truly makes a business owner's day. The business owners in Kimberley are very supportive of each other; there is a real sense of community among us.
Q: What's the biggest lesson you have learned on your entrepreneurial journey?
A: One thing I've learned is that when you take over a pre-existing business, you take on a lot of what the previous owner has developed; whether that is processes, staff, suppliers, or a bookkeeper.
Finding my own way to run the business was a little challenging at first, but I'm really happy that I put in the time and energy to make it my own. Now I own a business that I fully stand behind and that aligns with my values and vision.
Q: How did the WeBC loan program support you in starting your business?
A: As a young entrepreneur, it's quite challenging to find a bank that will loan to you because you often lack collateral. WeBC not only provided me with the loan that allowed me to purchase my business, but they also supported me during and after the loan application. I really appreciate that they check in with you and if you ever have any questions, you can reach out to them and they'll be there for you.
Q: What does the future of your business look like?
A: Once I have my current loan paid off, it's a dream of mine to grow Sprout Health Market further. I'd like to branch out and open up a second brick-and-mortar store, maybe in Invermere or Creston. Recently, I also opened up an online store to explore growing through eCommerce; selling my products online allows me to reach those customers who can't stop by to shop locally.
Where to find Sprout Health Market