Samantha Matsuda, Evolution Equestrian Co., Courtenay
Courtenay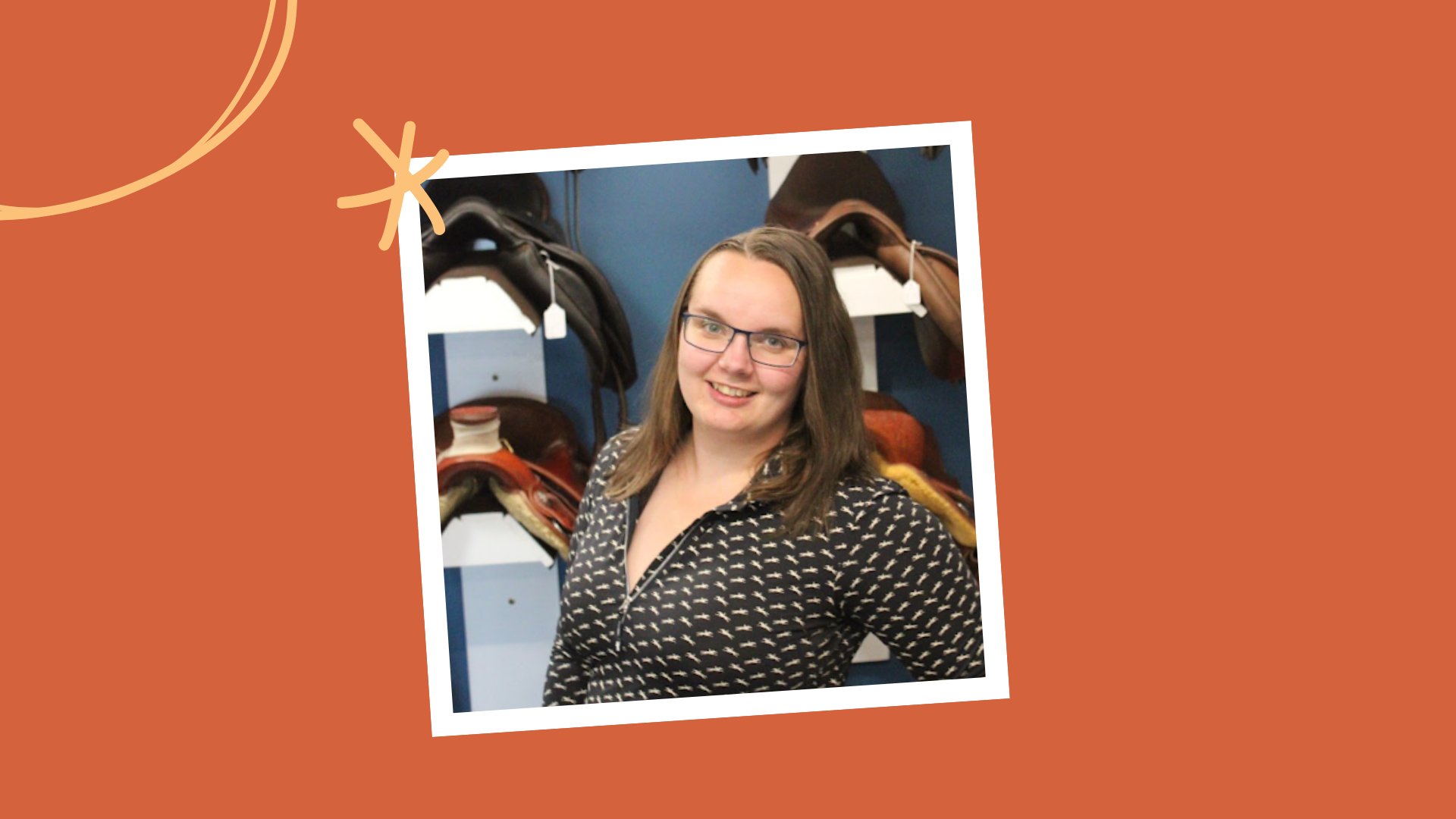 As a self-proclaimed 'tack nerd', Samantha Matsuda brings her love of horses, their welfare, and training alive with Evolution Equestrian, a local horse care and riding equipment store in Courtenay. Founded in 2021, Evolution Equestrian equips horse enthusiasts with saddles, bridles, and grooming supplies—both locally and nationwide.
Evolution Equestrian was Samantha's long-held dream that started in her garage and was almost extinguished by the pandemic.
"I was working for a different tack store for about seven years before starting my own business, Samantha explains. When COVID hit, I had to step away from that dream because the risks were just too high. After the birth of my child, the world slowly opened back up again which gave me the opportunity to try again."
Samantha came back stronger and successfully set up her horse equipment storefront for the local riding community in Courtenay.
With a burning passion for learning everything there is to know about horses, and sharing insights with her community, Samantha regularly posts educational content on social media, alongside a weekly blog named 'Tack Tip Tuesday.'
"I'm really passionate about providing learning opportunities for my community on all things horse-related," Samantha says. "It's a great way to build a relationship with my customers and connect with them on a more personal level."
Business Loans for Women Business Owners in BC
Through WeBC's funding program, Samantha was able to secure her storefront and create growth opportunities for her business.
"I was on maternity leave so traditional loans were challenging, because I didn't have consistent employment. But anyone who knows me knew I had a strong business plan and I know the industry," Samantha shares.
WeBC's unique funding program differs from traditional financial institutions, allowing broader eligibility criteria to meet the needs of women entrepreneurs. Alongside business loans of up to $150,000, women are also supported with complimentary services aimed at empowering women to develop and strengthen as entrepreneurs.
Q&A
Q: What role has your community played in your business?
A: I've had a great relationship with my community, with word of mouth being a huge driver for my success starting out. After I left the tack store I worked for previously, a lot of customers followed me because they wanted to see me succeed. I'm really grateful for the trust that the community puts in me.
Aside from that, I'm really thankful for the support I received from my friends, my family, and my husband, since he basically built an entire storefront for me.
Q: What's the biggest lesson you have learned on your entrepreneurial journey?
A: I found that doors open and close in life and it's important to learn to go with the flow and find what works for you. Sometimes the timing isn't quite right or obstacles are outside of your control. Covid put a pause on my plans for the local storefront, but at the same time allowed me to come back stronger after the pandemic and be more prepared to start my business.
Q: How did the WeBC loan program support you in starting your business?
A: Being a new business, a new mom and all that, that small little loan has allowed me to bring enough product in, secure the storefront and really get my foot in, which is what I needed. I've been able to do $40K a month in sales since getting into my storefront. So it's just giving me that confidence I need, someone to get me going.
Growing so quickly has been challenging because I did run the store in my other job, but I didn't necessarily ever see the budget or the numbers. Learning about taxes and cash flow and being able to get feedback on that from WeBC is huge. I also did a few of their webinars before I opened the storefront because it's such great information and learning.
Q: What does the future of your business look like?
A: Considering that Evolution Equestrian started in my garage two years ago, we've already exceeded my initial expectations for growth! In the future, I'd like to bring in more brands, expand my supply, alongside my opening hours, and hire additional staff. Another major goal for me is to be able to support the local community with more prizes, events, and sponsored riders.
Where to find Evolution Equestrian Co.