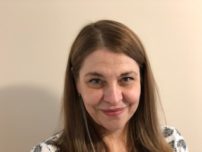 Silvia Pogolsha is the co- founder of Lorkin Trading Company, a family business specializing in importing high quality Moldovan wines/spirits in British Columbia.
In 2008, Silvia's family moved to Canada from the Republic of Moldova. As a professional in Moldova, she had the opportunity to meet several wine makers and visit wine factories, as well as the famous Moldovan underground wine cellars. With her husband's support, Silvia decided to import high-quality Moldovan wines in BC.
[su_spacer="15″]Q. What has your WEC loan enabled you to do in your business?
A. Our WEC loan has allowed us to buy inventory for our business.
[su_spacer="15″]Q. What other services has Women's Enterprise Centre provided you with?
A. We are new Liquor Agents in the wine market industry in BC. I am convinced that, with Women Enterprise Centre's business advising and mentoring support, I will build a strong understanding of the wine market and wine industry which will help us succeed.
[su_spacer="15″]Q. What inspired you to take the leap and start your own business?
A. The wine of Moldova is a high quality product with unique features and characteristics of its place of origin. When we came to Vancouver we realized that such wine was not easily available in BC. This motivated me to start my business. Also, we are confident that British Columbia is the right place to do business.
[su_spacer="15″]Q. What's the biggest lesson you learned when starting your business?
A. I understand that the competition is hard, and we need a few years to establish our business strongly. I am convinced that, with the support of Women Enterprise Centre, we will succeed.
[su_spacer="15″]Q. What is your greatest strength as an entrepreneur?
A. My experience in international relations, law and management and strong belief in my business's success are my strengths.
[su_spacer="15″]Q. What are your goals for the business?
A. My goal is to import high quality wines and to win liquor market share in British Columbia. Also, for us this is a promising step towards scaling this business internationally.