Tara Black & Marion Neuhauser, Origin Gluten-Free Bakery, Victoria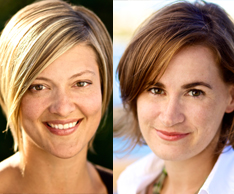 For Tara Black and Marion Neuhauser, the inspiration to start their business came from their desire to provide nutritious and quality food to their clients. They saw a niche in the food industry when friends of theirs with dietary restrictions had a tough time finding tasty wheat-free baked goods. Passionate about food and about helping their friends, the duo decided to jump on the opportunity and do something about the lack of breads, cakes and cookies for people with celiac disease.
They started off slowly with a stall in Bastion Square as a way to test the market and get a better idea of how people would react to gluten-free baked goods. The response was overwhelmingly positive! After only six months, they opened their first gluten free bakery in Victoria. As their business grew they opened their second store in Colwood on Vancouver island. They were awarded the "Top 10 Businesses to Watch" by Douglas Magazine in 2011 and "Best New Business on the Westshore" by The Westshore Chamber of Commerce in 2014. This year, they won the" Best Employer" award at the 12th Annual Small Business BC Awards.

Q. What services has Women's Enterprise Centre provided you and how have these services helped you?
Marion: Women's Enterprise Centre was essential to the opening of our business. They provided the startup loan. When we wanted to open a second store, WEC provided us with expansion financing. WEC was very thorough in getting information from us, which only reinforced the deliberate and cautious way we had gone about planning our business.
Q. What inspired you to take the leap and start your own business?
Tara: We appreciate quality food and wanted to provide the gluten-free community with healthier products that also taste great. Plus we wanted to be more in control of our lives, and that's something that we felt self-employment could offer us.
Q. What's the biggest lesson you learned when starting your business?
Tara: Never underestimate your operating costs when applying for financing! Always apply for more money that you think you'll need. We budgeted for the least amount of money we thought we would need to operate the business, and then applied for more financing beyond that to compensate for all the unseen things that could cost us or jeopardize our operating cash-flow.
Q. What are your goals for the business?
Marion: Our plan is to continue building the business with the same caution that we started with.
Q. What is your greatest strength as an entrepreneur?
Marion: Our determination to plan well for our business! We spent time organizing our business plan, testing market viability, and making sure we were thorough with our research and concise with our goals.
Q. What personal lessons have you learned as an entrepreneur?
Tara: We have such a great team at Origin bakery. We trust in our team who share the same vision of providing nutritious food options to our customers. We also realize how important it is to promote informed choices within the local community. To facilitate this we have launched Origin Community Health Network to showcase a diverse amount of services available from various members of the health community throughout the Capitol Region."