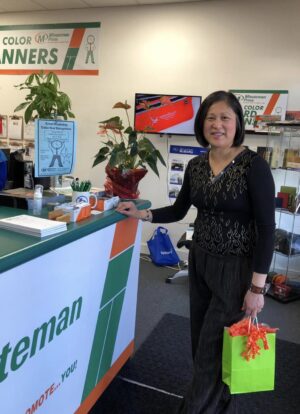 When you don't have a safety net you quickly learn resilience, adaptiveness, and creativity. That's what happened when Winnie Siu acquired the Minuteman Press location in South Vancouver three months before the pandemic. As a new business, she struggled to find the safety net of funding to support the decrease of business during the pandemic.
She started her business after being laid off from a large corporation and decided to buy this franchise location and be her own boss for a change. The learning curve of launching a business is steep enough, but Winnie had the added challenge of the pandemic and the loss of a staff member around the same time. She quickly learned how to do parts of the job she never had to before, but thankfully had the support of her Minuteman Press field agent to help show her the ropes.
WeBC helped Winnie access the RRRF Emergency loan program and it's helped her retain new staff and upgrade to a newer computer system to soon expand her in-house product lines for additional sources of revenue. 
 
Loan Client Q&A
Q. What's the biggest lesson you've learned while running your business?
Without a safety net, I learned to be resilient, adaptive, creative and think outside the box. I also learned to always try to provide the best customer service as it is very difficult to gain a loyal customer and very easy to lose one.
Q. What is your greatest strength as a business owner?
Be organized and be able to remember what needs to be done.
Q. How has WeBC supported you?
Through WeBC, we were able to access the RRRF loan as we are a new company even though we took over from an existing business that was operational for more than 10 years. The loan is helping us retain staff as our revenue still has not rebounded to pre-Covid levels. In addition, more importantly, we will be able to upgrade to a more efficient and newer computer system and possibly expand product lines in-house. 
Also, the peer group session was great. I found comfort in hearing that others were going through the same challenges and learning how they were overcoming them.
---
Where to Find Minuteman Press
semarinedrive.minutemanpress.ca
#103 – 610 SE Marine Drive, Vancouver, B.C. V5X 2T4, Canada